Stephen Moyer spoke to PopEater about what to expect this season, his joy at not having to manscape any more, and talks the perils of falling in love with your co-star.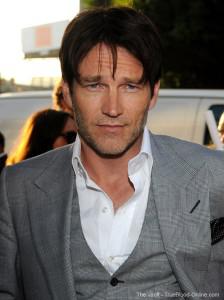 You fell in love on the set, which is such a cliche … you know that, right?
Yeah. I've not got an original bone in my body. I think we were both not in relationships at the time, we were sort of dating and I don't think we were looking. There was an attraction, obviously and undeniably, but in your head you're going, 'That would be such a cliche!' and also I've said this before but all of these people have signed on to do this gig, they're hoping it's going to last seven years and the last thing that you want to do is screw it up for everybody by having a little flirtation and then hating each other for the next seven years. So you think you're not going to act on this but you know our resolve didn't last long.
Well she is fabulous. I think you're batting way above your average.
How dare you! (Laughs).
Ever get sick of each other on set?
The truth is we haven't had much to do together this year. I think Alan (Ball, creator) is trying to protect our relationship so we don't get bored with each other.
So what can we expect this season?
This season's about everyone trying to move on. Last season Sookie went away and and everybody has had to get by in her absence. Things have changed a little bit and when she does finally make it back, the shift is very noticeable. I think it gave the writers a great opportunity to f*ck with the audience's head. (Laughs) I expect that to be used in full quotation marks.
Is there a lot of manscaping for the show?
About 2/3′s of the way through season one we had a new director on board and we had a scene where Sookie and Bill get it on for the first time, it was a very important scene and the director said I just want it to be so smooth and pure and lovely and I just don't see Bill with chest hair and I'm a hairy dude. I sort of listened to his reasoning and I kind of went, okay, this is what he wants I suppose we'll do this. I was far more malleable then, four seasons on I'm an absolute fu**er now but I went, 'Okay,' so me and Bridget the makeup artist get together, have an intimate moment in the makeup room with 14 other people and I shave my chest and we get round to doing it and then someone goes, 'You know what? We've already shot you with your top off in the first episode and you were totally hairy,' and I just hadn't even remembered it. That particular director, we then found out, had a thing about hair, he didn't have any, let's put it that way. I've gone back to being hirsute.
Read the complete interview here.