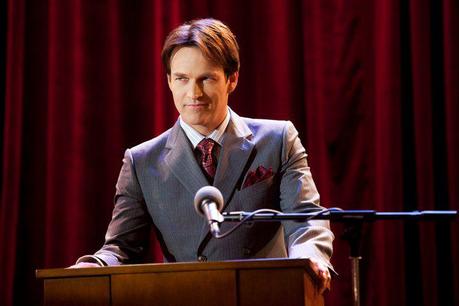 This has been a hard year for Bill Compton, of that there is no doubt. Stephen Moyer, Bill's portrayer recently talked to Entertainment Weekly about his character's arc this season; including becoming king and his relationship with Sookie (Anna Paquin). According to him, one of the reasons why the season has been so difficult for Bill is because he has had to learn from his past mistakes:
"If there's anything that Bill has been guilty of in the past, it's probably that he hasn't been very truthful, because he's trying to protect the person he loves and he felt Sookie wouldn't be able to accept that truth. If that isn't a lesson in love, I don't what is." Thankfully, Moyer has a little relationship advice: "If there's one thing he could learn, it's that it may hurt to tell the truth, but in the long run it's better to tell it straight up rather than hide it. Bill has to man-up — or rather, vamp-up — and do the right thing."
As for how he feels about Sookie and Eric (Alexander Skarsgård), Stephen calls the hookup the longest foreplay he's ever seen Eric has been after Sookie for four years now. But just because that's happened doesn't necessarily mean that Bill and Sookie are over for good:
"It comes down to whether Sookie can forgive Bill for his past, though I think she realizes that he made some of his mistakes trying to protect her. She might be able to forgive him, but the idea of seeing herself together with him is something else."
While that answer might not be as satisfying as one would hope, Moyer points out that one of the wonderful things about True Blood is that it does give you what you want eventually– just not for long.
What do you think about the future of Bill and Sookie's relationship? Sound off in the comments below!
Source: Entertainment Weekly.com- "'True Blood': Stephen Moyer weighs in on Bill and Sookie's future"
Image Credit: HBO, Inc.