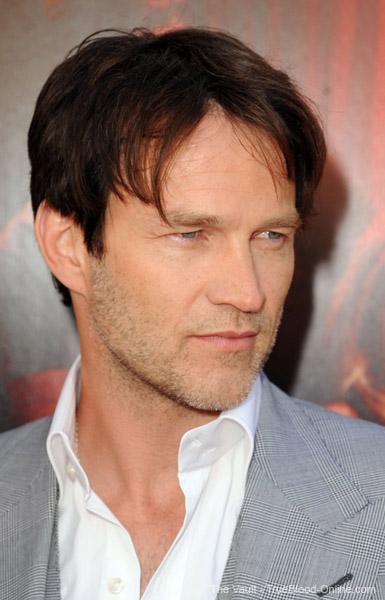 Stephen Moyer's film, The Double, opens today, October 28 and I personally can't wait to see it. Below is an interview with Movieline where Stephen talks about this film, solitary confinement, the art of eating a battery and his dream to direct, True Blood and more.
What made you want to play a Russian psychopath?
He's just a great character. It's so interesting — in the [True Blood] hiatus we get five months. This year, I think it was only four and a half months to try and do something that is different from what you have been doing and to weave a tapestry. In this particular year, I also did a film with Rachelle Lefevre called The Caller in which I was playing a very straight character. I played a British politician in a British series called Ice and I also did some work for Anna [Paquin]'s brother in another thing. I wanted to broaden my horizons. Who wouldn't want to play a Russian psychopath? It's an awful lot of fun. You got to chew the scenery a little bit and learn some stuff.
What did you learn?
I learned about this form of fighting called Systema which I had no knowledge of before. I got to play with that which was great and I got to work with Richard Gere and Topher.
How does one get into the mindset of a Soviet psychopath?
A lot of my friends would tell you that I did that quite easily. Every situation is different. You have to learn what makes your character tick. If you imagine being locked up for 15 years, 10 of those in solitary confinement, which is what I was playing with, it's going to make you pretty mad. When you see the window of opportunity to talk to people or to get out or to somehow twist the situation, you're going to do that. I can't imagine spending one week in one of those cells.
Did you film in a real prison?
We were shooting in a real prison actually — a working prison in Michigan. You have to go through all of the procedures of actually getting in and them closing the doors behind you. I asked them to lock me in a cell that was very close to where we were shooting. So basically, I was in this cell near where we were shooting and every time they would do another take, they would unlock me and I'd come out and do a take. It was fun and gave me that sense of the cramped, locked-in conditions that are fascinating to play. It's just another area for a warped mind like mine.
How long were you confined total?
I think the first day, when they were setting up lighting, I was in there for a few hours. And then after that, I would spend five or 10 minutes in there between each take and 20 when they were resetting.
That's dedication.
Why wouldn't you want to spend time in a jail cell? You're in a real working prison. That's just fun. Of course there is a part of you that is wondering whether anyone is going to come back and unlock the door.
That scenario would make for some pretty unhappy True Blood fans I'd imagine. Did you interact with any inmates?
No. We only saw three or four high level prisoners — in that they were allowed to do things around the corridors. They had been in there a long while or their crimes weren't as big.
[SPOILER] Your battery scene made me gag. How did you make it look like you were swallowing a battery in one take?
Did you notice that? Good! How do you know I didn't actually eat a battery? Well, I don't want to talk about why I do that in the middle of a movie. I'll tell you though when this thing is off. [Turns off tape record and explains his battery-eating trick. Turns tape recorder back on.] I'm quite proud of that scene because I choreographed it myself. [END OF SPOILER]
Was it your idea to do it in one take?
It was. I came up with a way of shooting it where we didn't have to cut the camera. Film and theater are about misdirection and making the audience see something. I find it interesting. One of the things we do in True Blood is shoot all of our stunts in camera. Instead of doing some kind of visual effect, we try to make it happen. The camera might be over my shoulder as I'm looking at, for argument's sake, Lorena. She'll throw me down onto the floor and the camera will whip pan and when it gets to the other side of the room, I'm already on the floor. There's no way I could have done it that fast because we're doing it in vamp speed. What you don't realize is that that wasn't me when you were looking over my shoulder because you couldn't see my face.
It sounds like sleight of hand filmmaking.
It is. I get really excited about the process because it's part of the misdirection. It's Reservoir Dogs where Michael Madsen goes into the frame. We're on his back and he starts cutting the ear off and the camera goes into the other room and sits there and then he walks into that frame with an ear in his hand. It's fucking brilliant.
To read the rest of this interview, go here: movieline.com