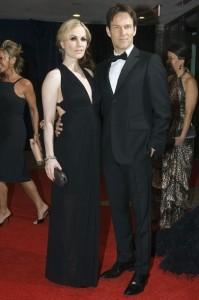 Central Arkansas Library System of Little Rock, Arkansas on Thursday announced the cast members, including Stephen Moyer and Anna Paquin and others involved in the production of the film Devil's Knot will be on hand for its U.S. theatrical premiere next month in Little Rock on May 3, 2013.
The library is hosting at its new Ron Robinson Theater the May 3 premiere of the film based on the book of the same name by Arkansas Times contributing editor Mara Leveritt. The book explored the murders of the three young boys in West Memphis and the subsequent convictions of teenagers Damien Echols, Jessie Misskelley and Jason Baldwin in the killings.
The library said Thursday that Baldwin, Leveritt and the film's director, Atom Egoyan, would attend the premiere as will cast members Stephen Moyer, Rex Linn, Collette Wolfe, Robert Baker and Kristopher Higgins. The top-billed stars of the movie, Colin Firth and Reese Witherspoon, are not expected to attend, though the library said Moyer's wife, Academy Award winner Anna Paquin, would be there.
Also attending the screening will be Echols' mother and sister, Pam and Michelle Echols and Pam Hobbs, whose son Stevie Branch was one of the boys killed.
Misskelley and Baldwin were sentenced to life in prison and Echols to death, but all three were released in 2011 after 17 years in prison in a rare legal maneuver in which they dropped ongoing appeals and pleaded guilty while maintaining their innocence. The case, which was also chronicled in the HBO documentary Paradise Lost and two sequels, has drawn worldwide attention with a number of celebrities supporting efforts to free and exonerate Baldwin, Misskelley and Echols.
source: arkansasonline.com