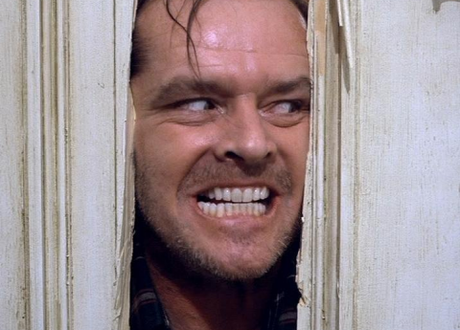 Jack Nicholson in The Shining
The background
Did you like The Shining, Stephen King's classic horror novel? Then you're in for a treat, as a mere 36 years later, the author has announced that he will be publishing the sequel, Doctor Sleep, in September next year. It follows Danny Torrance, the boy who survived the events in the Overlook Hotel, as an adult hospice worker – oh, who also is fighting some psychic vampires who want a 12-year old girl with special powers. He also has a prophetic cat. Lucky Danny!
The Shining has sold over a million copies since it was published in 1977, and was made into a film directed by Stanley Kubrick and starring Jack Nicholson (which King famously didn't like). The book told what happened when Jack Torrance, a writer,  took his family to the Overlook Hotel over a winter. He becomes possessed, and attacks his family; Danny, who has psychic powers, and his mother managed to escape. The internet is, on the whole, happy about this. Altogether now… Red rum! RED RUM!
"This is an epic war between good and evil, a gory, glorious story that will thrill the millions of hyper-devoted readers of The Shining and wildly satisfy anyone new to the territory of this icon in the King canon," said King's British publisher, Hodder and Stoughton, quoted on The Telegraph.
Watch out for those pensioners
King read fans "a chapter about the evil tribe," reported Alison Flood on The Guardian. They're known as "The True Knot," and look normal, but dogs don't like them. They look like old people, wearing polyester; and they like ill children.
When's it going to hit the big screen?
There's no doubt, said The Examiner, that the book will hit the big screen eventually. Many of his films have been made into films – Stand by Me, The Shawkshank Redemption, The Green Mile; they've also made it to TV. "In light of his prolific storytelling career, it's more a question of when King's "Doctor Sleep" will hit the big screen than if it will."
Marvellous? Or meh?
Comments on The Guardian's website ranged from the excitable: "Great news! 'The Shining' was and is one of the best horror movies out. I saw it when it came out with a female friend who gripped my arm so tightly during the infamous 'Here's Johnny' scene that she drew blood …" said nansikom. To the not so excitable: "He's a master story-teller, no doubt, but I feel he lost his mojo a while back. This sounds… meh. Most of it sounds like it's already been done by Poltergeist."
It's a long wait… so catch up on old favourites
The Talk Stephen King Blog was upset that it was a whole year to wait, and advised: "Time for constant readers  to either catch up on King books they have not yet read (there are plenty for  me) or reread loved King books. . . or catch up with another author.  Ken Follett is doing a new series that looks awesome."