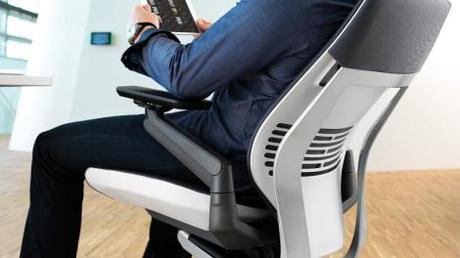 Investing in a fantastic office chair is about the best thing you can do to preserve a good posture and comfortably sit behind the computer all day. Yet, in these modern times, smartphones and tablets play just as big of role in our "sitting behavior."
Therefore American professional furniture producer Steelcase undertook a global posture study in 11 countries, observing 2000 people and uncovered nine new postures as a result of our modern technologies and behaviors. Steelcase afterwards translated these new "behaviours" into their latest design, called the "Gesture" chair.
The Gesture Chair is build to support a wide variety of postures and sitting preferences, whether it's leaning back to check text messages or curling up to read on your iPad. The armrests are equally flexible to save us from the added strain that comes from holding a gadget in-hand.
Basically, instead of locking you into a single specific pose for optimal ergonomics, it's designed to flex and adapt to how people really want to sit throughout the day so they remain comfortable no matter how bizarre their pose. Thankfully the Gesture isn't just some design concept, it will actually be available sometime in the fall for a yet to be revealed price.