Hehe...Some of you readers have observed that baby's loots are generally all gotten online. Yes, I think partially due to Covid and lockdown, I barely go out of the house. So instead of going to the brick and mortar stores to use up the vouchers (yes somehow we have accumulated a lot of shopping vouchers), we have shifted our purchases online.
For those of you who know me personally, I am actually a person who still have some reservations when shopping online. Generally, I don't buy off taobao (and in rare events that I do, it is usually because of friend's recommendations). I won't deem myself as particularly price/ brand-conscious but for baby, somehow I put quite a bit of effort to ensure the
authencity and safety of the wesbite/ products before I even share it on Baby Talk.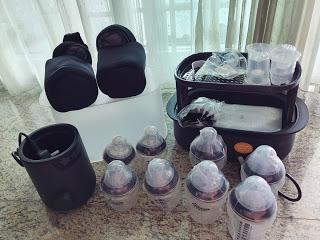 Baby will be using a
electric steamer
to sterilise his bottles even though a lot of mummies have raved to me the goodness of UV sterilisers. The main reason why we are using electric steamer is because Baby's Daddy is adamant that
UV being carcinogenic
can't be good for Baby. Baby's grandparents have share the same concerns about
potential long term effects, which may not be apparent yet given this is a rather new technology
. 
Personally, some vendors have told me that their
products are not entirely compatible with UV sterilisers and if I want the baby products to have a longer lifespan
, steam steriliser would be preferred. Also, I noticed that my friends who are in the healthcare industry tends to use steam sterilisers. So, we decided to play safe and even rejected a potential collaboration (sigh).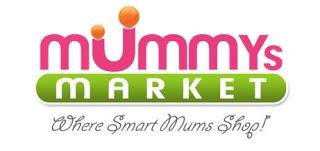 Thanks to the Mummies at my groupchat, I managed to snag a pretty good deal off Mummy's Market. The deal was so good that it sounded too good to be true. To verify the authencity, I even went to message Tommee Tippee on it, which they quickly assured me that Mummy's Market was one of the vendors they are working with. The delivery was delayed slightly due to lockdown, but I have to say I was a bit bummed and felt cheated by the "perpectual sales". My freebies never came too :( And because of this experience, I thought another sales was perpectual too and lost out a good buy #heartbroken
If Baby takes well to Tommee Tippee, this set would cover a lot of baby's feeding needs:
1 Advanced Electric Steriliser: If this has drying function, it might be perfect
1 Bottle and Food Warmer: Yeah!
2 Insulated Bottle Bags: Was supposed to get cute freebies, but since they didn't come, this would be handy!
4 150ml (5oz) Baby Bottles
4 260ml (9oz) Baby Bottle
1 Bottle and Teat Brush: Haven't got any, so this comes handy!
4 x Milk Powder Dispensers: Haven't got any, so this comes handy!
1 0-6m Soother: Too much of this, might do a giveaway at year-end to bless some 2021 mummies
1 Teat Tongs: Haven't got any, so this comes handy!
Generally, steam sterilisers are a lot cheaper than uv sterilisers. So opting for a steam steriliser would save you some money. However, most steam steriliser either don't have a drying function (like mine) or takes much longer than the uv steriliser to dry, so having a lot of bottles (like me) would come in handy!