Transition recipe (2015)
I used to make this Steam Chocolate Fudge Cake very often when I was still blogging under PreciousMoments66.   With the intention of closing my first blog so I will be moving all the nice recipes over to this platform instead.

This cake yields a really moist and soft texture.  If you are unfamiliar with this cake, it was really popular back in 2015.  

After such a long hiatus for this recipe, I found that I lost touch and done some blunders but thankfully, this cake turned out well and was well received by friends when I brought it for a party.

So today, I shall re-attempt it again for my family.

Actually I do missed those blogging days whereby bloggers are friendly and always willing to share.  Those days are gone unfortunately.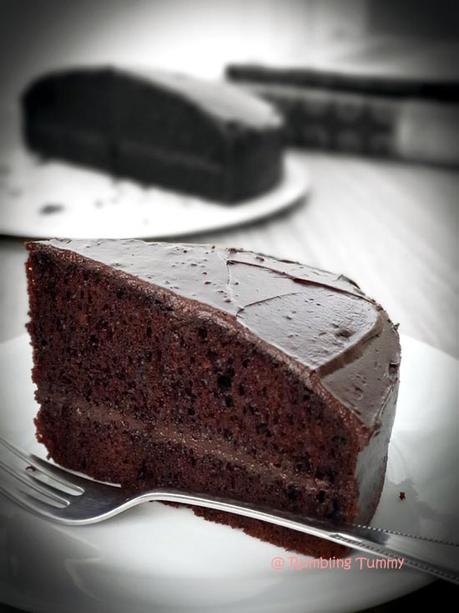 What you need 
90g castor sugar
150ml milk
150g butter
100ml condensed milk
50g cocoa powder
150g cake flour, sifted
1 tsp baking soda, sifted together with cake flour
2 eggs, lightly beaten
Fudge: 
60g butter
180g dairy whipping cream or double cream
340g cooking chocolate, chopped
Method 
Prepare a steamer.  Lined and grease a 8" round pan.Combine sugar, milk, butter and condensed milk in a saucepan. Stir over low heat until sugar is dissolved and butter is melted.
In a mixing bowl, sift in cocoa powder. 
On med speed, slowly pour in the milk/butter mixture. Make sure there are no lumps formed. Set aside to let cool.
Add eggs gradually into chocolate milk mixture.
Sift in cake flour and baking soda, fold gently into mixture until no lumps are found.
Pour into pan and steam for 40 minutes over rapid boiling water. (Add boiling water during steaming, if necessary). 
Let cake sit in pan for 10 minutes. Turn cake onto a wire rack and let cool completely.
To prepare fudge:
Stir whipping cream and butter over low heat until hot and well blended.  Remove.
Add chopped chocolate and continue to heat until chocolate is melted. Stir constantly.
Once fudge is cool, you can start to frost the cake.

Enjoy!

If you have enjoyed this post by
Rumbling Tummy
, be sure to follow her on
Facebook
, Instagram, Pinterest, Twitter and
Google+
.