I want to start this post with a big Thank You to you the reader of SEOAndy, you've made this blog what it is today and are helping to make sure the future of the site is strong. You, my friend, already know of my loving of felines, so instead of a boring birthday cake with 5 candles to illustrate our birthday, instead we've 5 cats.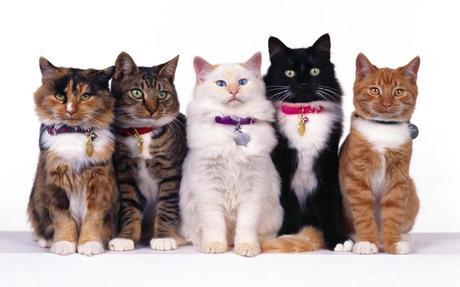 So… It's been a huge year for SEOAndy and me, things have happened that changed my life and the plans I had for SEOAndy. I won't bore you with the details of it all but here is a few important changes that have happened since this time last year:
I became a candidate for local elections in May 2014.
This means I now NEVER stop, there is always more to be done.
SEOAndy as service entity was basically acquired by RedStar.
This means all SEO services offered before as SEOAndy are now as RedStar.
This means a more complete and all round service than I alone could offer.
RedStar made me Head of Digital Marketing.
This means I now NEVER stop, there is always more that can be done.
SEOAndy continued to be a Resource Hub for website stakeholders.
The future of this "blog" is secure, and we've plans for growth.
And yes everything remains creative commons license, share it, use it – just link back!
What SEOAndy didn't get around to doing this year:
We never started a Podcast.
It's not off the table but highly unlikely to occur anytime soon.
I still haven't written the resource documents and white papers you all want.
I continually get requests, and one day soon I will do these I promise.
But most importantly, a list of great things SEOAndy did this year:
Published Over 140 Blog Posts.
Thats 2.7 a week – almost hitting the target I strive for of 3 a week!
*dances a little at being so close*
We've introduced new editorial rules to ensure Guest Posts are always great quality.
We like all sites have been guilty of sometimes letting crap in, well no more my friends!
Oh and we are sorry if you've read some of that crap – hopefully you forgive us.
SEOAndy was published several times in various industry magazines.
We've continued to push for better design and awesome readability.
Our new design, we think you will agree, is pretty slick and makes reading much easier.
We've simplified everything we can to make the experience of reading here more enjoyable.
We (finally) decided to get a real logo.
Since SEOAndy began readers have moaned about the lack of branding on the site.
So we fixed it and it also means our life becomes easier going forward.
Finally, SEOAndy became a brand!
The blog moved from being myself writing everything to being a hub of regular contributors.
The transition has caused concern in some camps, so we've a few things we are changing…
Whats in the pipeline for SEOAndy in the next 12 months?
SEOAndy will become a two channel Resource Hub for SEO.
We will offer direct resources, booklets, fact sheets etc to share and use as you need them.
We will look to post just once a week, but we will ensure the quality of the post is super.
If (and when) we can't say the content is super we won't post that week.
We will, inline with the above, make our regular post day Tuesday.
We are moving from WordPress.
As of this month we've been searching for a CMS that goes beyond what wordpress can do…
Wordpress is awesome & I'd recommend it for almost all websites, but it's too restrictive.
The CMS we choose will be capable of dealing with my wants for a content organiser.
I am not longer happy with one box to write a blog post in, it's not flexible enough for us.
If you've any suggestions for a great CMS (it must be Open Source) leave a comment below.
SEOAndy is looking to team up with a permanent sponsor.
Running a site at this scale with our aims for growth isn't easy or cheap.
We're not looking for millions of pounds to help but just enough to keep us afloat.
Boring bullet points out-of-the-way… let's go have a pint or two to celebrate.
Before I grab that pint, once again, thank you for reading this blog and helping to grow this website in the way you do each time you tweet about it or share one of the posts on your site, and simply by adding to our stats. Every little thing you do helps make this site grow and prosper. Thank You.
Original Content by SEO Andy @ "Staying Young" – SEOAndy is 5!