After our last year rejuvenating staycation at Club Mahindra Jim Corbett, this year too we had planned, but of course in a different city and different property.
Staycation ideally should be near to your home city, as the main purpose is to have a leisure trip. So, why to have a long journey, right? As we live in Delhi, we decided to have a relaxing time in Agra.
Although this was my third visit to the city, I had never stayed overnight. So, this time it was completely for an idle vacation.
We started searching for the perfect staycation property and finally selected ITC Mughal. The main reason for selecting this property was its lush green campus, which we didn't find in any other star hotels.
We visited this property in Sept 2019 for 2nights/3days.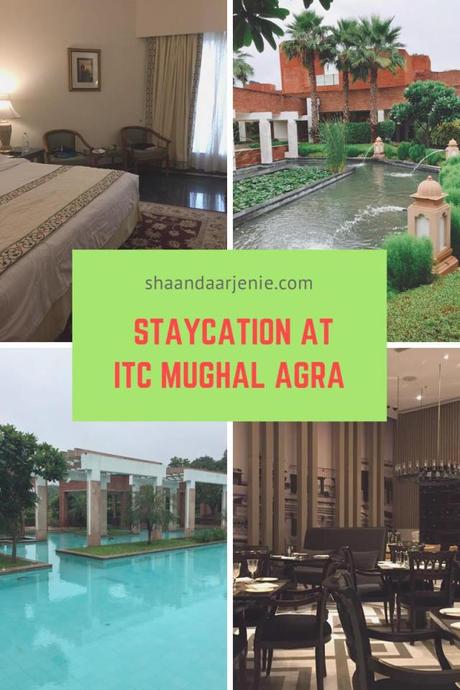 Pin It
Easily accessible by both rail and road
We had booked Gatiman Express, which took only 2hours to reach Agra from Delhi. As Agra is famous for the wonder monument, Taj Mahal, four bogies were full of foreigners that too in a weekday.
ITC Mughal, a luxury hotel in Agra
As the name says, you can see and feel the spellbound Mughal architecture across the property.
It comes as no surprise, that it is the only Indian hotel that won the prestigious Aga Khan Award for its excellent representation of Mughal architecture.
Be its doors, floors, luxurious gardens or the roofs, you can see the reflection of Mogul- full of splendor and perfection.
The property is quite big and you can miss some areas, so always check things before coming and explore.
Mughal Room
The hotel offers luxury rooms and suites, so you can select according to your budget and plan.
We had selected the Mughal Room, which has all the facilities and amenities making it an unforgettable experience. It was completely worth spending time on this opulent property.
The view from the window was pleasant, but I wished we had chosen the center room which offers the pool sight.
Also, thanks to Rahul Bose, fruits were complimentary.
*Room Tip: Ask for rooms near or in front of the poolside.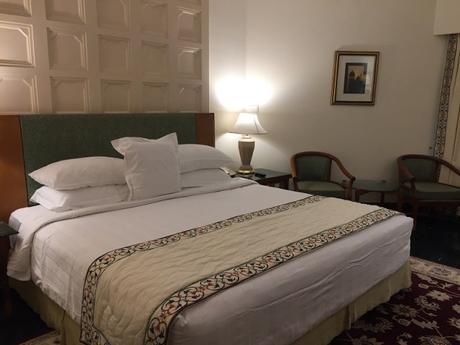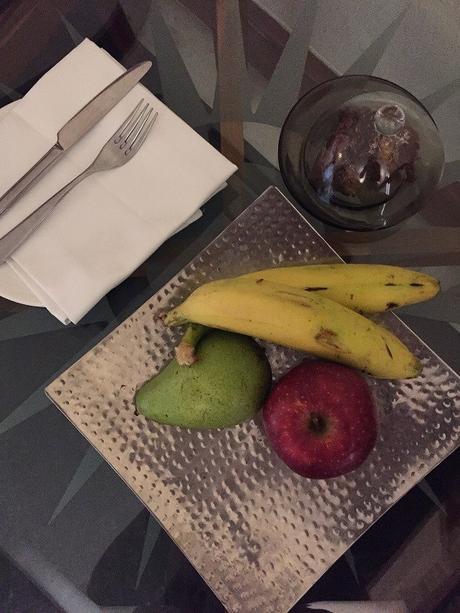 Things you can do
This luxury hotel offers so many things, that you won't need to step out of these environs. It is indeed a perfect getaway to spend with family & friends.
1)  Swimming pool
The hotel offers its two luxurious and pristine pools – the main pool is called Firdaus Pool and a plush spa pool.
Spa pool specifically has access for suites guests but you can relax poolside or if you have taken a spa treatment then you can enjoy this pool.
Also, the spa pool is situated on the other side which can be missed. But as I had seen this pool photos online, I explored the property and found this spectacular view.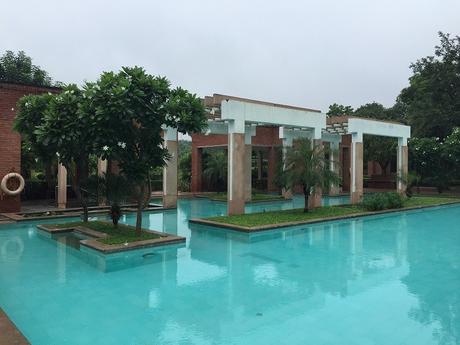 2) Kaya Kalp – the Royal Spa
Spread over a vast expanse, this is the largest spa in India and offers therapy based on ancient customs.
A must visit for spa lovers.
*Note: Need to pay depend upon your room.
3) Gym and Fitness
If you are a fitness junkie, then continue doing your daily work-out at this fully equipped Fitness Centre.
4) Lush green campus
The best thing I loved about this property was the magnificent lush green campus, which follows Mughal tradition in its extensive use of greenery and water, making the garden tranquil and grandeur.
One can see running water, fountains and courts full of greenery, open to the skies. All you need to do is spend your leisure time with nature.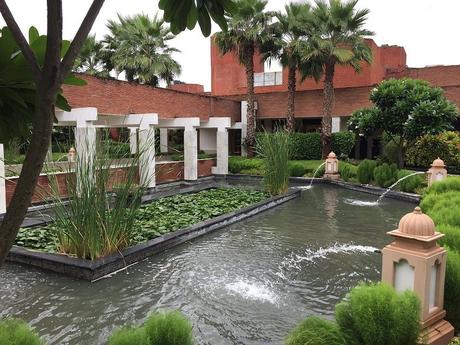 5) Activites
There is only one activity which happens daily at 7 pm- the musical on weekdays and weekends, there is a kathak dancer.
The Restaurant
Thanks to our package, our two meals were included and we could also avail the third meal and the lobby bar drinks due to the credits of our package.
The staff gives you a booklet culinary voucher which makes it easy to use and take benefits.
1)  Peshawri
Commonly known as an Indian restaurant, you can taste the authentic flavors of the northwest frontier cuisine here.
The chef told us that their dish- the inimitable Dal Bukhara is quite famous and it takes 24hors to make. We did try and you too do it.
2) Taj Bano
The three meal buffet restaurant has cuisines from across the world.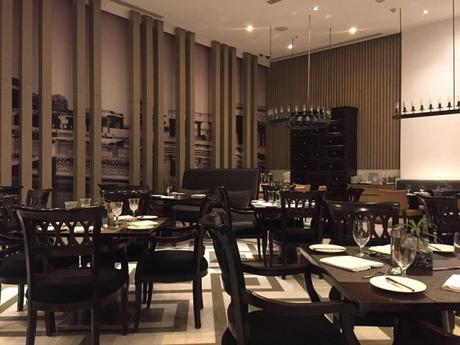 The three meal buffet restaurant
3) Maikhana, the lobby bar
The exquisitely stylish lounge bar is located in the center of the hotel and is a perfect place to drink and relax.
Due to our hotel credits, we could avail of the 1+ 1 offer during happy hours.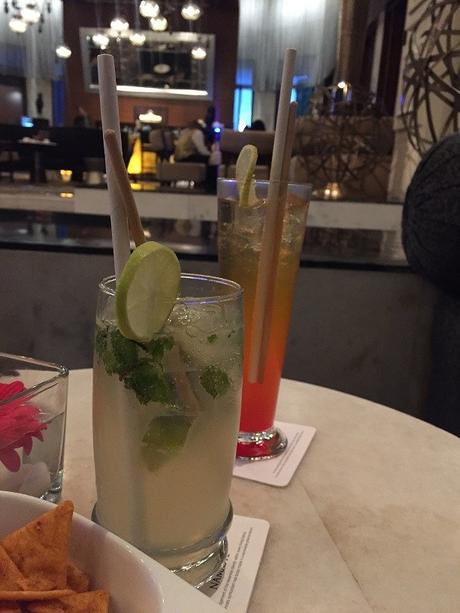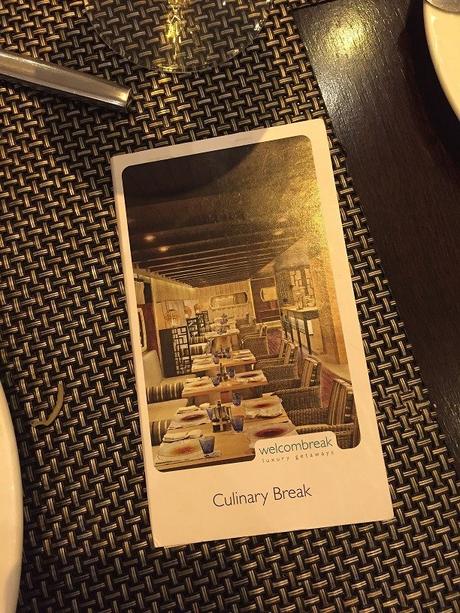 Service par excellence
We were ecstatic and overwhelmed by their services. The staff makes sure that the guest is happy and will make you feel comfortable.
We never had such warmth and friendly hospitality till now. It would not be wrong to say, that they treat their guests like a king and queen.
We would recommend everyone to have this wonderful experience.
Charges
We had booked Mughal Room for 2night and 3 days @7500/night from MakeMyTrip.
This was the best package as we didn't have to pay anything extra from our total 15k.
Let me tell you how!
First of all, it was Sept, rainy season and weekday, so the rates were comparatively less.
We had selected free cancellation just to be secure till the last moment.
Two major meals included.
Free wifi- Do check it in your package or else you need to pay extra.
Hotel credit worth 3k – This can be used for the third meal/ spa therapy.
Happy hours- Avail 1+ 1 free drink
*Note: Charges of packages can vary kindly check at your end.
View this post on Instagram

What is your thought on this decor/architecture? #shaandaarjenie #doctor #doctorblogger #health #healthblogger #india #agra #travelblogger #happyholidays #holidays #holiday #vacation #fun #happy #family #love #pink #happy #lucky #together #allhumdullilah #travel #architecture #decor #design #homedecor #itcmughal #itcagra

A post shared by Jenifer $ayyed (@shaandaar_jenie) on Sep 30, 2019 at 12:30am PDT
Truly, a luxurious rejuvenating staycation, which will make your body and soul happy.
We even spend some time at Taj Mahal, after all, Agra visit cannot be completed without this.
If you are visiting for the first time and will not spend much time in touristy places, then enjoy staying at this Mughal Dynasty. But if you are revisiting Agra like us, then I suggest you take pleasure in this leisure luxurious hotel.
Check out the below vlog for the preview.
---
You May Also Like To Read:
Travel Essentials: 5 Things you must carry in your travel bag
Nainital- Escape to the City of Lakes
Delhi- Best Tourist Places to Visit
My Amazon Picks:
*Disclosure: This post contains affiliate links and I may receive a small commission if you
purchase through them at no extra cost to you.