On Holiday, everyone lets themselves go. All inclusive five star hotels with an ice-lolly here and a sweet chocolate snack there – you need to build up some energy to keep you going for long sightseeing tours. For two or three weeks of doing nothing on vacation, you can allow this. In this short period, you won`t put on that much weight. Besides, when you are back home, you can work out again like you did before you left. But what can you do, if you are going to spend a long time in a foreign country, perhaps to study abroad?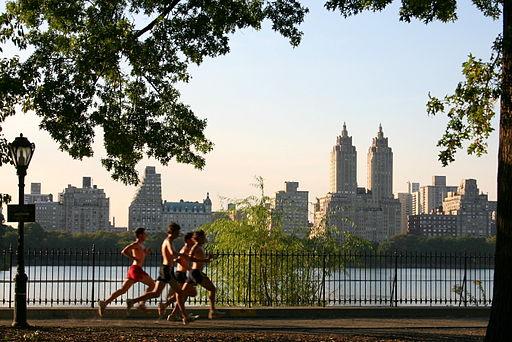 Central Park jogging. By Patrick Gruban, via Wikimedia Commons
Going to an English school in New York for six months sounds like a lot of fun. The Big Apple offers a lot of sights. That means there will be a lot of sightseeing tours, meaning you will need a lot of energy. So you may need a little snack or you could go to the well known chain of fast food outlets to grab a quick meal. Comprehensible, because you are in a foreign country, everything is new and you just want to enjoy your stay. Not many come back from their stay with less than five kilos on their hips. But it doesn't have to be like this.
The first easy advice is to do sports in New York and that start with packing your bag before you go abroad. You don't need three different pairs of shoes. Two pairs are enough. With this extra space, you can pack trainers in your bag. You just need one jersey and one pair of jogging bottoms and you have the perfect outfit to go for a run in New York City. Despite New York's jungle of steel, stone and skyscrapers, there are a multitude of good running spots:
Central Park:

Hills, flat streets, a beautiful landscape and historical sights – Central Park offers a great mix of everything a runner wants from a route.

Lower Manhattan:

From Chelsea Piers over Battery Park to the financial district, or even to Brooklyn Bridge – Lower Manhattan offers one of the best views of New York. There are special assigned routes for runners, so there is no need to worry about traffic.

Astoria Park:

This park in Queens is not as famous as Central Park, but it definitely has some great amenities. With a 400 meter running track, an Olympic swimming pool, inviting sidewalks and great views of the city – Astoria Park is a buried treasure for a runner in New York.

New York City Marathon Route:

For the experts! The marathon starts on Staten Island, and then continues on through all five city districts and guides the runner by several of the beautiful sights of the city.
With the same equipment you can go to one of the many gyms as well. You can run on a treadmill or do some exercises on the machines. If you don't like running or training in a gym and furthermore absolutely have to take three pair of shoes to the foreign country, there is another space- saving alternative. Put a bathing suit and goggles in the bag and you can swim regularly in a swimming pool. "The Sports Centre at Chelsea Piers" and the swimming pool in Astoria Park are most suitable.
If you want a little bit more action, you can sign up for a dance class at a dance school in New York.  New York has a reputation for having the best dance schools in the U.S.A. The "Alvin Ailey American Dance Center", the "Sandra Cameron Dance Center" or the "Dance New Amsterdam" offer different public courses like hip hop, jazz and more.
By bringing yourself to do some exercise two or three times a week, you don't only do something for your body, you also can learn English. You always meet new people by doing sports of any kind and with the small talk, you can practice and improve your English. And with doing sports, you can eat one or two burgers at the sightseeing tours without having a conscience. You can afford it, you do workout.