The grounds of Burghley House, Stamford, are usually rather a peaceful, tranquil place to be. Locals generally visit to walk their dogs, take their children to the excellent Gardens of Surprise or to relax and enjoy a pleasant lunch overlooking the beautifully landscaped park.
That all changed on Saturday 6th June when Status Quo and their entourage came to town, and along with them some 10,000 people, each ready to sing and dance to their hearts' content.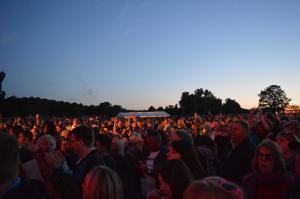 It was a beautiful sunny day, and as the evening wore on people were relaxed, happy and many were starting to get tipsy from the various drinks consumed along with their picnics (some of which put my idea of alfresco eating to shame!).
At 7.45pm, the support act, Walkway, made their entrance. From Diss in Norfolk, these guys have previously supported The Darkness and Black Stone Cherry, and were asked by special invitation to join Status Quo at their three stately home gigs. That's quite something for an as yet unsigned band (I'm sure they won't remain unsigned for very long…!).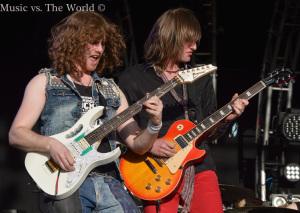 I was impressed by the energy, charisma, and talent that exuded from these guys – they were obviously loving being on that stage, and weren't at all fazed by the thousands of people in front of them. In fact, they fed off it in exactly the way any decent band should! Heavily influenced by Classic Rock music, they also dropped in a couple of nice Rock ballads for good measure. The crowd enjoyed what they were hearing even though they didn't know the songs, and to me that bodes well – no doubt they've got a few new "likes" on their facebook page today!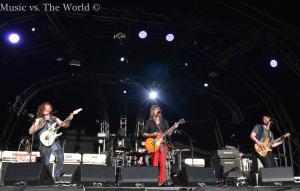 Walkway's albums "Top Shelf Content" and "Streetwise" are available to buy via the band's
official website
, and you can catch them live (this band isn't afraid of gigging a lot!) in a town near you.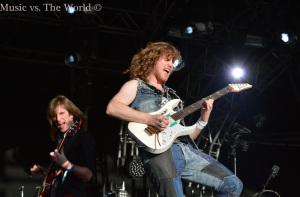 During the break, the anticipation was building within the crowd – everyone was excited to witness Status Quo, a band who have sold 130 million albums worldwide over their 50 years (in the case of Rossi and Parfitt) together. For the people of a small town on the edge of Lincolnshire, this was most definitely one that couldn't be missed!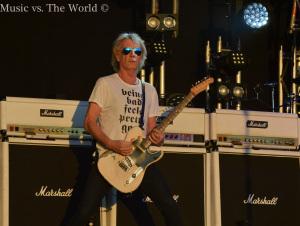 The well-known "Quo-ohh-ohh-oh-oh" chant was increasing in volume, and finally we had to wait no more – on strode Rick Parfitt, Francis Rossi, John "Rhino" Edwards (bass), Andy Brown (keys) and the superb recent addition, 35 year old drummer Leon Cave (drums).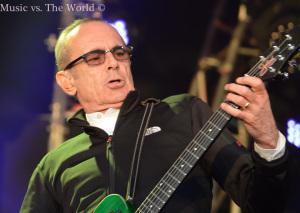 Rapturous cheers, jubilant whoops and uproarious applause continued as the familiar sounds of "Caroline" began. From the onset, the crowd was dancing and singing, and the band was responding to this in kind by interacting with the audience and each other. It was hard to tell who was having the most fun, if I'm honest!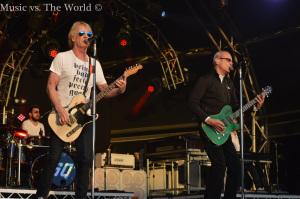 The verve and enthusiasm didn't wane throughout the entire night's entertainment, which was chock full of classic Quo tracks from "Something 'bout You Baby I Like" to "Big Fat Mama" to "Down Down" and "Rockin' All Over the World". The set was further punctuated with Parfitt's more soulful vocals on "Rain", the ever wonderful "Proposin' Medley" (which includes one of my favourites, "Wild Side of Life") and, to the apparent delight of those I was there with, the most excellent "Hold You Back".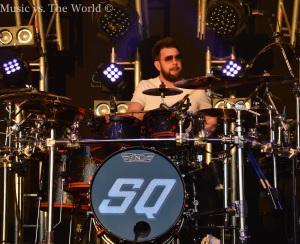 Status Quo is a band who does what they love to do in front of people who are equally as passionate about the music. They just can't help but perform – it's in their very make up, and I reckon they will (probably literally, according to Rossi) rock til they drop! With such an immense gigging history and musical back catalogue, you'd be hard pushed to find a band who are still getting out there after all this time with such vigour and passion and who continue to pull in huge audiences who are crazy for what they do!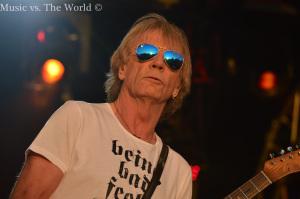 If you missed the gig last night, fear not as Quo have a whole load of upcoming shows this year, including Hatfield House and Royal Highland Showground in Edinburgh and culminating in an eleven date UK tour from the end of November to mid December. You can also grab their
Aquostic – Stripped Bare album
– it's certainly an eye opener, for the cover photo if nothing else!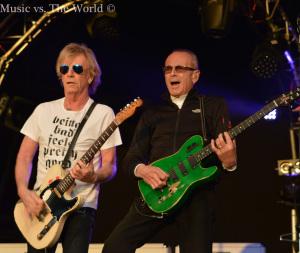 Now, please excuse me as I'm still on a gig high so am going to work off this continued adrenaline rush to the sounds my well-used copy of Rockin' All Over the World!
All photos by and copyright to Fi Stimpson AKA Music vs. The World. Please do not use any image without prior permission. Thank you.