I was recently asked by Kaitlyn to borrow a statement necklace for a wedding she was attending. At first I was like, "I'm sure I have a few that would work with your dress" and then I actually looked. I had more then a few for her to choose from. Here is what I pulled out of my jewelry case: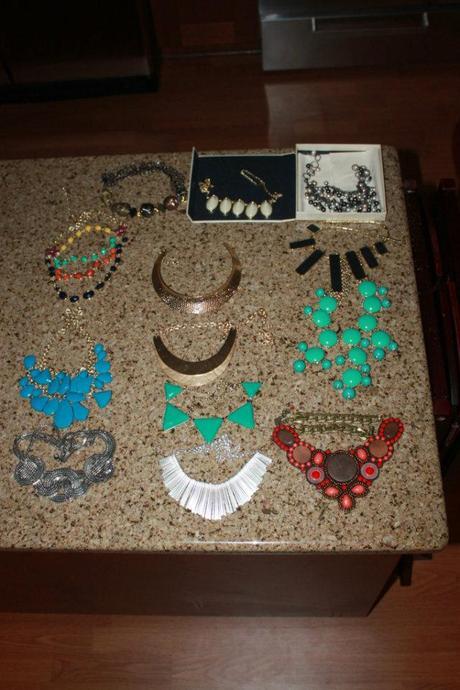 1st Row: Kristin Hassan, Jewelmint, Erin Gallagher's Gem Bar
2nd Row: Pree Brulee, Forever 21, T plus J Designs
3rd Row: Just Fabulous, Windsor Fashions, J.Crew
4th Row: Francesca's, (triangle teal one) Pree Brulee, (silver) Baublebar, Banana Republic
After taking the picture of these 13 necklaces, I realized I had a place where I hang more, but metal statement necklaces. When Kaitlyn came over to choose, I had 18 laid out for her.
I have to say, I was surprised at how many statement necklaces are currently in my collection. I don't think this is too many though. In fact, I may need to find a few more in different colors (yellow, orange, purple, hot pink!!).
How about you? How many statement necklaces are in your collection?