Title: Start With a Happy Ending
Genre: Drama, Supernatural, Slice-of-Life
Artist: Risa Motoyama
Publisher: Houbunsha (JP), Digital Manga (US)
Original Release Date: September 26, 2012
Start With a Happy Ending is a mix of bittersweet stories about life lost and life regained. Despite some rather sad and unfortunate moments, each story manages to have a happy ending and a plethora of cats.  
Start With a Happy Ending is a collection of 15 short stories all based around the same premise: following the main character's untimely death, an unnamed cat god grants them one extra week of life in the body of a cat. The general theme of all the stories is also the same: the person failed to live their life to the fullest, and now they have one last chance to discover what makes them happiest so that they can move forward in their next life.
The variation is minimal between the stories, which is why Start With a Happy Ending probably would have been better if it took its time with one or two stories instead of trying to cram so many storylines into one collection. As a series focusing on one main character, I think the elements at work here would have been wildly more successful and much more emotionally riveting, but as it stands in this collection, the stories feel rushed and repetitive.
However, that's not to say that some of the stories in this collection were unable to achieve emotional drama, touching moments, or tender scenes. (I will admit my eyes teared up a couple times.) But after reading five more stories like the one that is able to elicit sympathy from its readers, the emotional scenes lose their impact and it feels like running in circles. By the end of the collection, I really wish that the pacing could have slowed down a lot. The stories are written with a clear goal in mind, and Motoyama is so focused on reaching that goal that she ends up missing a lot of opportunities to illustrate human nature and the struggle to come to terms with life and death. Because of that, the stories can sometimes take on preachy tones and there's a fair enough mix of stories about obsessive workaholics and lackadaisical underachievers to make the overall message a little confusing–are we supposed to relax and enjoy life or focus our efforts on chasing our dreams?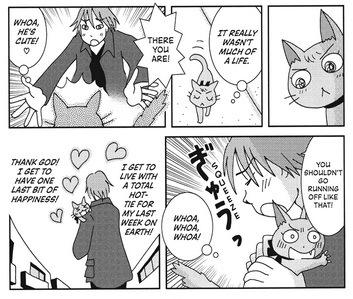 More often than not, the main characters waste most of their time until the last day or so when it finally dawns on them what they were supposed to be doing all along: fixing their mistakes, learning lessons, and discovering themselves and happiness. Oddly enough, the endings of the stories can be the most boring parts, and they're usually rushed and the conclusions a little bit too neatly reached (because, in the end, everyone manages to learn the lesson they were supposed to learn and accomplish the selfless acts of love that provide salvation).
The real charm of the stories occurs when the souls first awaken in the feline bodies–sometimes they're baffled, and other times the characters seem to deny their own circumstances and are determined to carry on with their normal routines. These are the most humane moments the stories offer–the refutation of death, then the slow coming-to-terms with life lost, and finally the determination to offer salvation for oneself or loved ones. Sadly, though, these moments are mostly skipped over (the span of the extra week of life is usually condensed to a handful of panels) or treated as comedic relief.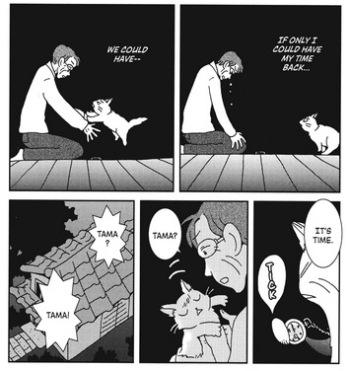 Start With a Happy Ending, despite its flaws, is a charming and touching collection of stories meant to inspire in its readers a sense of happiness and appreciation for life. While a different format of the general premise of the collection would have made it a more alluring and adult piece of work, as it stands the collection is suitable material for a younger audience.