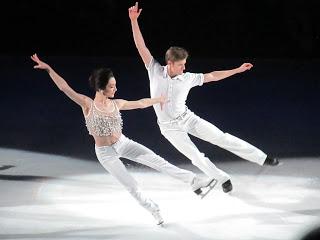 This past weekend I traveled to Los Angeles to visit friends and attend the Stars on Ice show in Anaheim. It was a fabulous night of skating! I was a little worried when there were some uncharacteristic stumbles in the pre-show (apparently, the ice had just been painted which had left it in a less-than-ideal state), but everyone did a great job when the spotlights came on. Here are my thoughts on each program:
Opening Number – "Set It In Motion" – Meryl really stood out in this for me with her sassy dancing. She totally owned her solo at center ice and lived up to her status as one of the headliners. I also loved seeing Evan and Polina dancing together. Polina could have a second career as an ice dancer.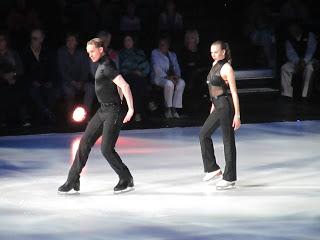 Polina – "Americano"/"Dance Again" – This was a fun number that highlighted Polina's dance skills. The girl has rhythm, and I'd like to see her try a competitive program like this next year. Her twizzles remain the best by any non-ice dancer.
Madi/Evan – "Haunted"/"Ghost" – It was a treat to see their Beyonce program again even though I'd seen it three times this past season. They always bring so much intensity to the choreography, and I live for Evan's lunges. There was a funny moment in the pre-show when Evan randomly fell during their run-through, and he started doing Madi's part of the choreography down the ice.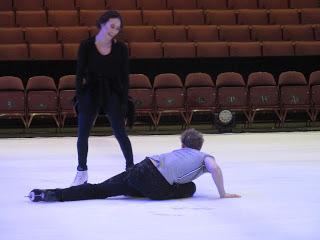 Adam – Beatles Medley – This was another program I'd seen multiple times already but was happy to see again. Adam didn't let up on the technical content even though it wasn't a competitive performance. He did two triple Axels and his patented Rippon Lutz, among other jumps. The crowd ate up all of it.
Girls Number – "Sour Cherry" – This group number was a little disappointing. I felt Jeff Buttle could have done more with the choreography, considering he had the strong performance skills of Meryl, Madi, and Ashley at his disposal. Gracie didn't look as engaged as the other three girls… more like going through the motions.
Ryan – "Love Runs Out" – Ryan appeared to be in pain from a leg issue during the pre-show, so mad props to him for gutting out the triple jumps and a backflip in this program. It reminded me of a lot of his past show programs, so it made me wish he'd mix it up a bit. I think his comedic programs are where he's at his best.
Maia/Alex – "Clair de Lune" – This was a stunning program from Maia and Alex that showcased their soft knees and lyrical expertise. Something like this could be a good vehicle for a free dance.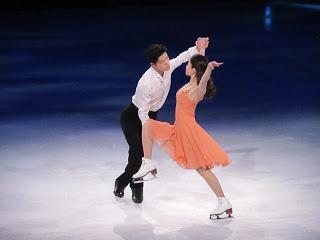 Ashley – "Hip Hip Chin Chin" – Yet another program that never gets old! This was Ashley at her best, displaying her outgoing personality and innate understanding of the music. She hit all the jumps even without Marissa's dress

J


Jeremy – "Peanut Butter Jelly" – This program was so fun! Jeremy is such a natural dancer, and he hit every note of the music perfectly. He had a random fall in the beginning of the program and missed the next jump, but it didn't take away from the performance at all. I wish there were more opportunities in the U.S. for Jeremy to be a professional skater because he brings so much to the table, and it's much less nerve-wracking as a fan watching him in shows than watching him compete.
Gracie – "Maybe This Time" – I prefer Gracie's more fun exhibitions like "Shake It Off," but she did a good job with this, completing a couple of jumps (one was a big triple Lutz). I'm excited to see the new exhibition that Misha Ge is choreographing for her to Ariane Grande's "Best Mistake" and "Bang Bang."
Meryl/Charlie – "Dream" – I hadn't seen this program before and I loved the emotion they put into it. Charlie was especially intense in this one. Every time I watch them skate I remember how much I love the raw abandonment in their skating.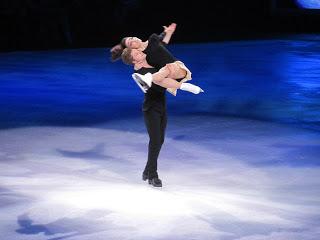 Guys' Number – "The Sound of Silence" – There was a haunting quality to this program that worked well. I thought it may have worked even better if it had just been Adam and Jeremy since their skating styles align more closely than Ryan's does to either of theirs. The simultaneous double Axels by all three were really cool, though.
Ice Dance Trio – "Rise Up" – Love this song and it was lovely program by our three ice dance world medalists. I would've liked to have seen them switch partners throughout the dance and add a little more complexity to the choreography, but it was still beautiful to watch.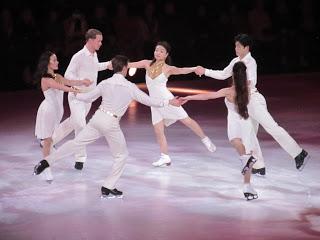 Polina – "Ave Maria" – A great follow-up to the ice dance trio, keeping the same soft and lyrical mood. Polina has such graceful arms that these balletic pieces really work for her. She hit a few wonderful spirals, including the Kerrigan. In her first program she popped the triple Salchow but came back and hit it in this program.
Madi/Evan – "Everybody's Free (to Wear Sunscreen)" – LOVE LOVE LOVE this program! Madi and Evan are so versatile in that they can do dramatic, sultry, and quirky and can pull them all off. The lifts in this program are ridiculous, and I hope we see them employ some of this new style into future competitive programs.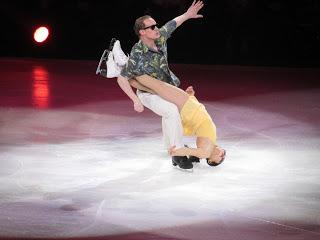 Ryan – "Fire and the Flood" – This program felt very similar to his first program and made me wish again that he'd do something like the Mr. Cellophane number he did last year or his Mozart medley.
Gracie – "I Was Here" – I thought Gracie had better energy in this program. I'd like her to consider using a current song for a competitive program in the future.
Adam – "O" – Beautiful, quiet skating from Adam here. Totally different from his first number that played to the crowd. I would've preferred a different Coldplay song since the Shibs used this one last year (and there are so many great Coldplay songs to choose from), but Adam's interpretation had a different feel.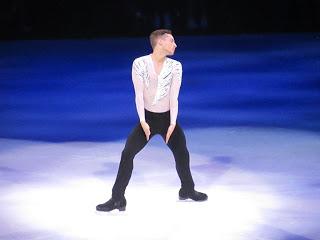 Maia/Alex – "Fix You" – A modified version of their free dance complete with the best part – the twizzles right on the rise of the music. They really gave it their all, visibly showing even more emotion than they did at Worlds.
Ashley – "Dangerous Woman" – This was a program right in Ashley's wheelhouse. She plays the vixen very well, and Jeremy's choreography made wonderful use of the music. Loved her dress, too!
Meryl/Charlie – "Dog Days Are Over" – It was great to see Meryl and Charlie do a high-energy program since they've done a lot of slower numbers lately. I loved the straight-line footwork and the way Meryl's skirt moved with the music.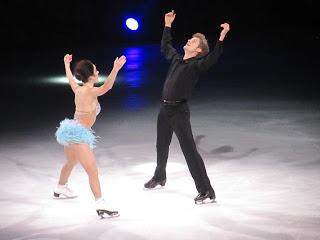 Jeremy – "Bridge Over Troubled Water – This one of my favorites of the night. Jeremy hit all the jumps, including a triple Axel, and he just floated across the ice. It was reminiscent of his "Bring Him Home" program. He knows how to leave an emotional impact with just one simple glide over the ice.
Closing Number – "Wild Motion (Set It Free)" – I thought they should have let each skater/team have a spotlight moment during the closing, but other than that it was fun and the skaters pulled it off wonderfully. And they did the SOI patented high kicks at the end!
Here are all my photos from the pre-show, the show, and the Meet and Greet! => SOI PHOTOS