Philippine Daily Inquirer, 02.27.2012
Peta's production is rendered in brilliant, exceptionally vivid Filipino prose by National Artist for Literature Bienvenido Lumbera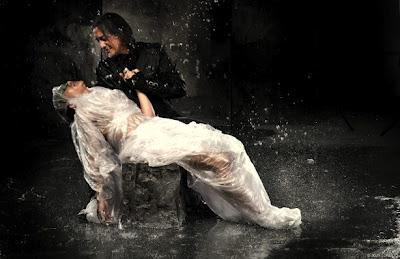 THE PHILIPPINE EDUCATIONAL Theater Association's Filipino production of King Lear, directed by Nonon Padilla and running until March 4 at the Peta Theater Center, opens with a familiar scene arrestingly re-imagined.
Lear and his court, garbed in all-black Japanese-silhouette costumes, their heads uniformly shorn except for Lear's Christ-like shock of hair, assemble for the ritual division of the kingdom among the monarch's three daughters. The backdrop is a hulking, dystopian metal-and-wood scaffold dripping with frayed plastic and dead tree branches, its garish fluorescent tubes shuddering to harsh light as the play's first order of business gets underway. (The production design is by Gino Gonzales.)
As Lear (Teroy Guzman) asks his three daughters (all played by male actors--Nor Domingo as Goneril, Gary Lim as Regan, and Abner Delina Jr. as Cordelia, the last the only character in white) to flatter him with fawning gratitude before giving each of them her share of the realm, a diaphanous curtain unfurls on all three sides of the stage. The effect is of the play suddenly boxed in, the audience divorced from and watching it at a further remove.
Then, as Goneril and Regan are each rewarded her allotment, the corresponding third of the curtain, indicated as the map of the daughter's new possessions, flutters down and is draped over her, implying not merely inheritance but investiture, a full and fatal transfer of power from the unsuspecting king to his scheming daughters.
When an incensed Lear eventually disinherits Cordelia for her inadequate show of affection, her last third of the curtain is appropriated by Goneril and Regan, who let it billow behind them as they exit the stage. Enter Gloucester's bastard son Edmundo (Jay Gonzaga), who slides beneath the cloth and luxuriates in it, foreshadowing his sexual entanglement with the two women.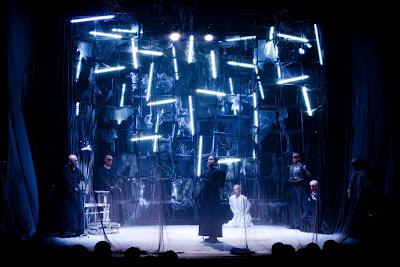 Persuasive
What follows this dense opening is a dark, stylishly stark Haring Lear that registers high in conceptual daring, though sometimes to obscure lengths. Cordelia and the king's Fool, for beginners--the two main characters who speak without guile to the king--are played by the same actor. Eminent Shakespeare scholar Marjorie Garber writes in her book, Shakespeare After All, that it's "a disputed stage tradition [that] the parts of the Fool and Cordelia were played by the same boy actor" in the Bard's time. Here, Padilla makes the setup organically persuasive.
He adds a further layer of implication by having the Fool speak to Lear through a puppet in the likeness of the king. At play's end, when Lear laments, "And my poor fool is hanged," clearly referring to Cordelia who, reverse Piéta-like, lies lifeless in his arms, here the puppet drops down from the scaffold, hanged by the neck. The Fool is dead along with Cordelia, but so is, for all intents and purposes, the king.
Withering barrage
Except for Goneril and Regan's fraudulent words of love which are spoken in Shakespeare's tongue (itself a provocative differentiation), the entire play is rendered in brilliant, exceptionally vivid Filipino prose by National Artist for Literature Bienvenido Lumbera.
Regan's "O, sir, you are old! Nature in you stands on the very verge..." for example, has become, "Matanda ka na, at ang kalusugan mo ay nasa gilid na ng hangganan." Lear's cry, "You see me here, you gods, a poor old man..." is heartrending in the vernacular: "Narito ako, isang matanda na puspos sa pighati."
Lumbera outdoes himself in Lear's staggering stream of invective against Goneril. No, not the verse that ends with the famous "How sharper than a serpent's tooth it is/To have a thankless child!", which now reads "Parang tinuklaw ng ahas ang magulang na nagkaroon ng anak na walang utang na loob!", but the second, more gut-wrenching part of the king's outburst.
In Shakespeare, it's already a withering barrage: "Blasts and fogs upon thee!/The untented woundings of a father's curse/Pierce every sense about thee! Old fond eyes,/Beweep this cause again, I'll pluck ye out,/And cast you, with the waters that you lose,/To temper clay."
In Lumbera's Filipino, it has become positively terrifying: "Tamaan ka ng kulog at kidlat at lamunin ng lupa! Makasugat nawa ang sumpa ng ama at pasukin ang bawat pandama mo! Matang nalinlang noon, iluhang muli ang aking ikinagalit. Dudukutin kita at itatapon kasama ang lahat ng tubig na umaagos sa iyo upang basain ang lupa."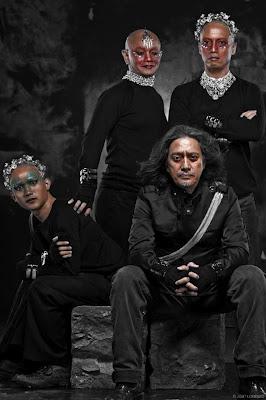 Highly physical
These lines acquire great force and heft in Guzman, who is in all respects a fitting Lear, but for one thing: He remains up to the last uncharacteristically robust, for a king described as a "poor, infirm, weak and despised old man," or in Lumbera's translation, "dukha, sakitin, matanda at mahina." Sonorously voiced, charismatic, his highly physical Lear seems paradoxically to grow even more vigorous the more crack-brained he becomes.
His stamina is beyond question. In the storm scene, as the howling tempest on the heath mirrors Lear's own mental state, Padilla has two stagehands blast real water from handheld hoses onto a sputtering Guzman, Goneril and Regan eventually taking over the task for a riveting but rather too obvious symbolism.
That solid, sound core never once deserting Guzman's ancient sovereign even at his most deranged moments, his plight crushingly misses the shattering, harrowing power so central to this Everest of Shakespearean tragedies.
To be fair, it might not be entirely his doing. Padilla, rather than letting Lear's tragic momentum play to the hilt, often blunts it, turns it on its head, jolting an audience primed to marinate in bouts of pity and horror into a more distanced, self-aware appreciation of the proceedings raging onstage.
In the scene of Gloucester/Gloster's blinding, Death in the form of a caped, carbuncled male stripper in bondage gear appears, crunching on Gloster's eyeballs and gyrating lewdly to the cabaret lilt of Noel Coward's Mad Dogs and Englishmen--a visual metaphor for the lechery that spawned Edmundo's illegitimacy. The same mordant specter, this time in the guise of the Fool's king-like puppet, stalks other scenes where murder and bloodshed occur.
As the body count rises, Padilla appears to consciously pull back from the horrific to the ironic, allowing the scenes to stab not at bone-deep drama but at something more blackly comic, the audience's uneasy titters at the Brechtian flourishes substituting for any easy surrender to grief.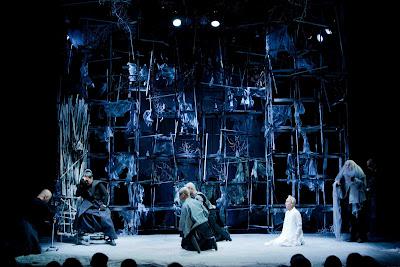 Hopefulness
"The fashionable view," wrote the British theater critic Michael Billington in 1990, "is that King Lear is an essay in Beckettesque nihilism." Watching this "Lear," that description is not what comes to mind, but something closer to--dare we say it?--Catholic hopefulness.
Padilla's allusions to Catholic mythology and iconography are unmistakable. In one of Lear's mad scenes, Guzman, already Jesus-like in appearance, slashes the air with blades of grass in his hands, then begins flagellating himself like a Lenten penitent. And when Cordelia reappears near the end, not only is she dressed in immaculate white, she has also become a woman warrior, her right arm sheathed in knightly armor and her head in a plumed helmet--Joan of Arc, no less.
Padilla drives the point home by the play's close when, moments after Gloster's wronged but now restored legitimate son Edgardo (a strong turn by Myke Salomon) announces the king's demise, the cast, candles in tow, reassembles onstage and begins mouthing lines that are clearly not Shakespeare's.
In what looks like an audacious bid to wrest a hard lesson, perhaps even a cautionary tale, from the spectacle of a king undone by the follies and frailties of his dotage and whose suffering seems devoid of any sense, rhyme, reason or meaning, Padilla fashions a coda to Haring Lear by appending to it the last lines of T.S. Eliot's seminal 1922 poem, The Waste Land.
Stable social order
Eliot's enigmatic work, commonly seen as his disillusioned reaction to the fall of the old order in Europe after World War I, alludes to the mythical Grail romances, specifically to a wounded or ailing Fisher King whose disability reduces his realm to a barren place ("I sat upon the shore/Fishing, with the arid plain behind me/Shall I at least set my lands in order?").
Like other strains of Arthurian legend, this tale pines for a vision of a unified, stable imperium--the same social order, of course, fleetingly present at Lear's beginning before the king's rash decision to parcel it out to his daughters leads to apocalyptic devastation.
This reference, unfortunately, and all others in Eliot's verse sail over the heads of the largely student audience, many of whom laugh when the line "London Bridge is falling down falling down falling down" is reached.
Padilla's most telling gesture at this point has to do with the Hindi quotations "Datta. Dayadhvam. Damyata." Even though they are not rendered in English in Eliot's poem, Padilla supplies a translation for his audience--"Charity, Compassion, Control"--presumably as the takeaway moral from all the pain and affliction that have gone before.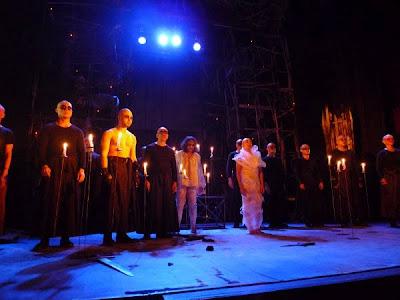 Redemption
But (spoiler alert!) he's not done yet. The Waste Land ends with the mantra "Shantih. Shantih. Shantih," which Eliot (an Anglican, by the way, who nevertheless identified himself as "Anglo-Catholic") defines, by way of quoting the Upanishads, as "The Peace which passeth understanding."
After the cast says this prayer in unison, they begin singing--and here the audience is absolutely in a quandary how to react--Lupang Hinirang. Padilla's point seems to be that King Lear's story of greed, betrayal, power, politics, opportunism and family strife is as present now in this country as it was in Lear's time. The same ills haunt the land and can rend it to bits just as easily, but for citizens who can learn to live by the tenets of their humanity and citizenship.
And there it is, the existential despair of Lear transposed into something more urgent and hopeful, the bleakness graced by faith in a redemption of some kind. Taking its cue from Eliot's modernist masterpiece, Padilla's re-imagining of this Shakespearean colossus gleams with intellectual rigor. But, at gut level, it can also leave one quite cold, baffled and unmoved.


Peta's "Haring Lear" runs every Friday (7 p.m.), Saturday and Sunday (10 a.m./3 p.m.) until March 4 at The Peta Theater Center. For ticket reservations, contact 7256244, 4100821-22, 0917-5765400, or [email protected], www.petatheater.com.