At the Technology and Innovation Summit hosted by the National Restaurant Association last fall, the keynote speaker, Seth Priebatsch, CEO (and Chief Ninja) of LevelUp, told a room full of restaurant marketers the basics of what to expect when Apple Pay is common. There were a lot of questions about iBeacons.
Every merchant will want their "card" pulled to the forefront of the "wallet" when customers approach. What a competition that'll become.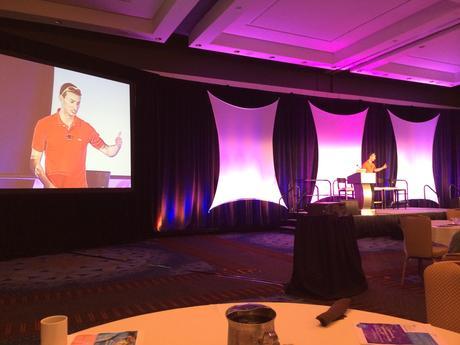 Though it looks like an empty ballroom, it was actually full. I was merely toward the front as Seth Priebatsch, CEO (and Chief Ninja) of LevelUp explained the new Apple Pay technology to a bunch of restaurant people at the National Restaurant Association Innovation Summit last fall.
Meanwhile, Starbucks continues to be in the enviable position of developing its own mobile payments system. Around 16% of the transactions at a Starbucks use its mobile app.
The incredible service they're rendering to the entire world—including Apple—is making "normal" people comfortable with paying by phone. Beep! The first few times, it's tentative, and clumsy, and the person holding the phone isn't sure which angle is correct and wonders, often aloud, if it's going to work. Then it does. And again. And again. And now customers can easily tip with the app—restoring to the barista a courtesy that mobile payments and "registered" Starbucks cards had taken from their tip jars. Using their power for good, not evil. Presumably.
Basically, not only did Starbucks force everybody to understand the difference between latte and cappuccino: now they're forcing everybody to get comfortable paying by phone.
Action step for other restaurants? Get smart about Apple Pay, and say nice things about Apple for getting everybody primed.