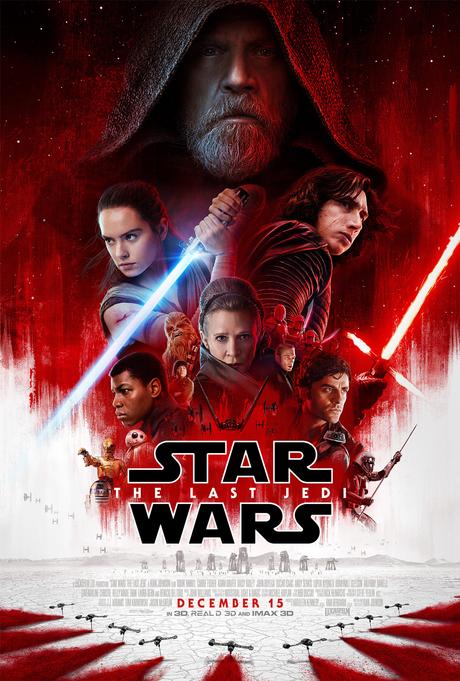 Star Wars Episode VIII The Last Jedi
Written By: Rian Johnson
 2h 32min | 15 December 2017 | Lucasfilm & Disney




Rey develops her newly discovered abilities with the guidance of Luke Skywalker, who is unsettled by the strength of her powers. Meanwhile, the Resistance prepares to do battle with the First Order.





Star Wars, as a long time fan of the Franchise I'm not one who tends to be too overly critical of the films. I have my annoyances sure, my own preferences but overall I can say I've never walked away from a Star Wars Film overly horrified. Okay, Rogue One might have been the exception but that wasn't because it was a bad film that ending to shook me to my core. 
The Last Jedi, for me, brought much of what I had hoped for in The Force Awakens. We got a taste of the past, the old characters while actually getting to explore a new story, a new world, new characters. This film felt much less lost in nostalgia than the last.
It had a lot going for it. Rey's strength and unwillingness to give up. Finn's dedication to proving that among everything he'd done he does want to be a hero of the resistance. The sexual chemistry between Poe and literally everyone. BB-8 comes out as the clear, on top hero of it all and my new favorite droid of the entire franchise. I'm sorry R2D2...you've officially been dethroned, you were never this helpful.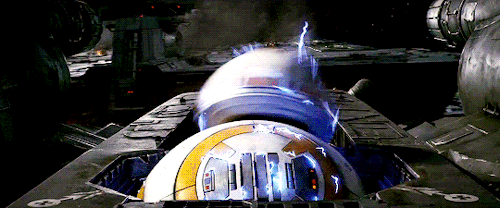 **SPOILERS AHEAD**
One thing I really have to say was that I was underwhelmed with the character of Rose. Which, is kind of a bummer. I was pretty excited about the prospect at first, here she was this female mechanic and engineer with this sad backstory, a sister that was instrumental in taking down the enemy ship, and literally gave her life to do so and..... we get a Fangirl. 
Her personality was a bit flat, which I just sort of let slide as part of the anti-social, timid thing and yet like a badass, she'd turned around and stunned Finn like no big deal. I don't... I just don't really know what to make of her. It felt like she was really a wasted opportunity. 
Then they just sort of ... throw in this 'I love you' moment with Finn a guy she's known for.... a day? I sat there feeling extremely uncomfortable, waiting for Finn to open up and confess "...uhhh too soon." Because really, really, really too soon.  I'm pretty disappointed in the writers on this one, I though Disney had grown beyond the 'we just met and fell in love' storyline, I think she could have been an amazing character and after that near-death confession, I was sitting there, kind of wishing she'd died. 
I just don't understand who that moment was for... because looking around at the audience none of us wanted that... Finn didn't seem all that into it either. We were trying to give him the opportunity to realize that he matter to someone because I think if that was the idea it undercut the obvious way that Poe, Ren and ummm BB-8 love Finn. He didn't need this at that moment, we didn't need it at that moment so what the actual f?
I don't know maybe it'll come together more in the next film. 
Kylo Ren and Rey were #goals for about 20 minutes of the movie off and on. I also think that it was a wasted opportunity to be the redemption of the darkside before it was too late. What a mind fuck that would have been, but instead the moment was squashed like a bug. The ending fight scene was kind of great and there were hints that had me going 'wait..why-' and then it made itself clear. I had figured it out a bit before it was revealed. 
Over all I really enjoyed it. It was its own true story with the base of true Star Wars at its core. If you haven't seen it yet, get up and get going!