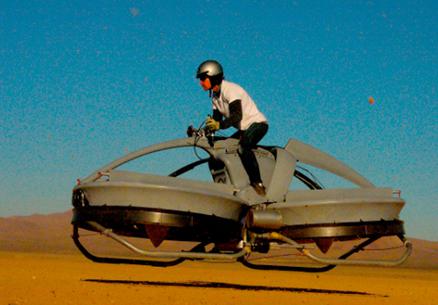 Aeroflex's 'hover bike' is a working prototype. Photo credit: Aerofex
A long time ago, in a galaxy far, far away, people rode hoverbikes and traveled in hovercrafts and it was awesome. Now, a California flight innovations company, Aerofex, has made that Star Wars technology a reality. 
The prototype uses helicopter dynamics to life the vehicle a few inches off the ground and is controlled by two sensitive rails at the driver's knees, allowing the driver to move the bike with natural leaning movements. The bike's makers see applications in both personal conveyance, of course, but perhaps more practically, in military use. The bikes can be used on virtually any terrain, allowing users to patrol borders without first building roads, for example.
"Think of it as lowering the threshold of flight, down to the domain of ATV's (all-terrain vehicles)," Mark De Roche, an aerospace engineer and founder of Aerofex, told InnovationNewsDaily.
Here's hoping that this speeder won't crash into a tree or be used to terrorise Ewoks.
The bike, in testing:

More in technology

Hark the JellyRat! Scientists create artificial jellyfish out of rat hearts
No iPhone 5 from Apple?