I knew something was wrong with the size of moons in SC or Star Citizen as viewable from the surface of Hurston (the only real planet in game). I always thought CI or Cloud Imperium wanted to have a view from the planetary surface that was more like the above image from their own promo footage. In all their promos to date, the moons of planets have been cinematic i.e. prominent in the planet's sky.

Even our Moon, were Earth to be translated to the CI engine (something CI say they'd done at the prototype stage) should still be quite prominent in the game sky from our Earth. As you can see from the above graphic; Crusader in the background, Hurston is the central planet with its four moons, Earth is in there for scale with our Moon. You'd have to have bring all the moons twice as close as they are to see them at all cinematically (or even Earth-like sized) in the Hurston sky. Maybe even closer... or make the moons bigger.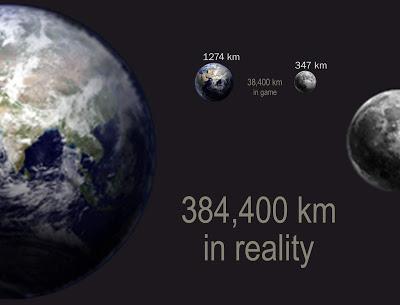 Someone's just uploaded the official sizes and distance of the planets and moons of the Stanton system and all the moons are too far away from all the planets, hence they're nothing but dots in the sky. Hurston is said to be a super Earth having a diameter nearly twice that of our Earth. But it's about the distances... our moon is about the same size as Hurston's first moon Ariel but it would be nearly twice as close.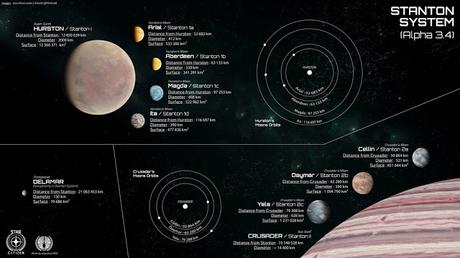 Worse still, is the sin of gas-giant Crusader, which is on a par with the size of our Saturn or Jupiter. You can't land on or enter the atmosphere of Crusader in-game yet because a) it's a gas giant and b) the plasma cloud tech hasn't been written yet. The following image shows the view of gas-giant Crusader from a take-off position a few kilometers above its nearest moon Cellin. I mean seriously...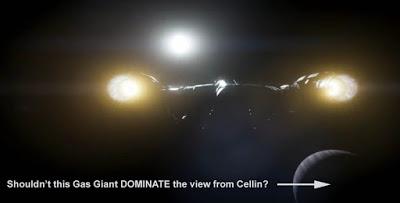 If CI had followed the same kind of proximity formula for Saturn's four closest moons they would all be closer than our own moon is to Earth. That is to say, the view of Crusader (from the surface of any of its four nearest moons) should TOTALLY DOMINATE the sky. It's a crime that it's nothing more than another moon in the sky when you see Crusader, from Cellin (its closest moon).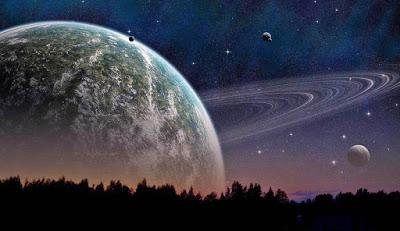 this is how Crusader should look from Cellin
There's no reason for this amount of distance between a planet and its moons, if CI did indeed put our Solar System into their own engine to calculate a suitable metric for where the planets might sit and how far away their moons might be.
The total pisser, for me, was the totally wrong Karman-line hot-re-entry altitude CI have given Hurston. It's not even twice the size of Earth yet it has a Karman-line value that's FIVE TIMES BIGGER THAN IT SHOULD BE. Basically, at 20km on Hurston the game should be offering you the Quantum Engine functionality for planetary circumnavigations and/or to flee to another planet or moon. Not make the player WAIT for another pointless 80 km of pulse engine ascent.
Same for when you arrive via Quantum Engine, you're far too far away when you drop out of quantum travel. You have another pulse-engine 100 km descent to the city of Lorville... when it should be more like 25 km and a lovely sail homeward.

the view of Hurston from 25 km up...
Time-queueing does not make up for lack of content.