Disclaimer~~This is just not for special occasions!  Holiday dinners call for something pretty fanceee schmanceee, and there's nothing more stunning and delicious than a standing rib roast!  Christmas for us as the kids have grown up, started their own families and have their own lives has morphed from lots of Santa, gifts, getting up at the crack of dawn on Christmas morning to a quiet Christmas Eve with some of our family and friends~~we're all sitting around the big dining room table where we feast on a veritable spread of blessing eats!
This standing rib roast is absolutely easy to prepare and nothing really to cook~~all you need to do is prep and let it do its magic in the oven.  Serve with au jus, horseradish sauce or whatever you desire!  As you can see, two of my sons were big helper sous chefs in the kitchen!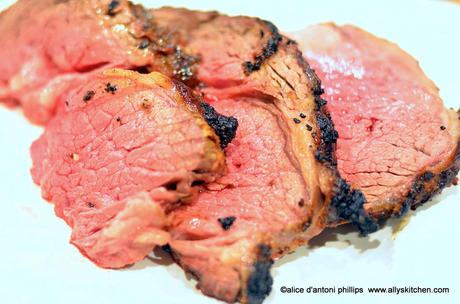 Preheat oven to 450 then reduce to 350
Serves: 8+
What you need:
5 1/2 to 6 lb standing rib roast
4 tbl coarse sea salt
1 (4 oz) jar of minced garlic paste
2 cups red wine (divided)
3 cups beef broth (divided)
2 tbl chopped fresh thyme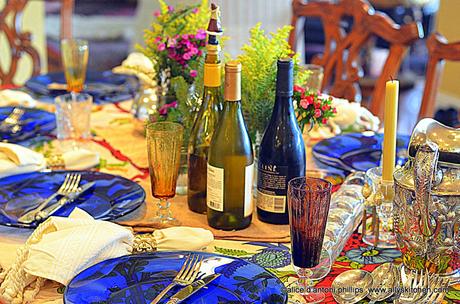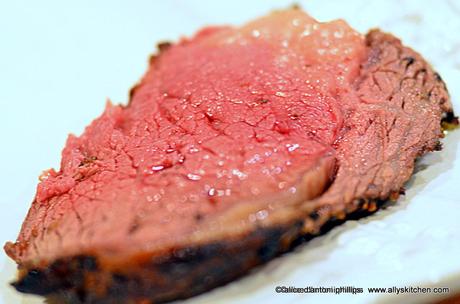 What you do:
Coat all sides of the rib roast with salt.  Rub the garlic paste all over the roast. Place in a roasting pan.  Add 1 cup red wine and 2 cups beef broth.
Cook 20 minutes at 450.  Reduce to 350 and cook another about one hour 30 minutes for rare (about 18 minutes/pound & about 22/pound for medium).
Note:  For more certainty on meat doneness, use a meat thermomter.  Insert in the middle of the roast.
130°F – very rare
140°F – medium rare
150°F – medium
160°F – medium well done
170°F – very well done
When done, remove, cover loosely with foil and let the roast rest about 10-15 minutes.  Deglaze pan with the remaining red wine and beef broth on the stove top over medium high heat.  Cook about 5 minutes, then strain and add the fresh chopped thyme.  Use this au jus gravy when serving.