A common cause of worry for most Indian Moms is regarding the weight of their children. Some Moms think that the baby's weight is a reflection of the Mom's way of raising the child and think a chubby baby is a sign of good upbringing!!Now obviously, this isn't true and as I always say, " Look at the baby and not at the scales! "My mantra is:
" As long as the baby is active and healthy, there is no need to worry about the weight gain"
Due to this, nearly 80% of the mails I receive every day are about babies' weight, particularly about how to know if they are underweight and what to do if that is the case. Being chubby isn't necessarily a sign of good health, since an obese baby is prone to several health problems throughout his life. As long as your baby's diet is adequate and balanced you don't have to worry about his weight.
However, it is important to keep an eye on a baby's weight, since being either underweight or overweight can put the baby at risk of many illnesses. Since replying to each email is bound to take up a lot of time, I decided to write this post on standard height and weight charts for babies that every parent should have access to. These charts are from the World Health Organization and along with these detailed charts, I have also included an easy reference chart for parents to calculate the ideal weight of their baby or toddler based on the Pediatric Textbook .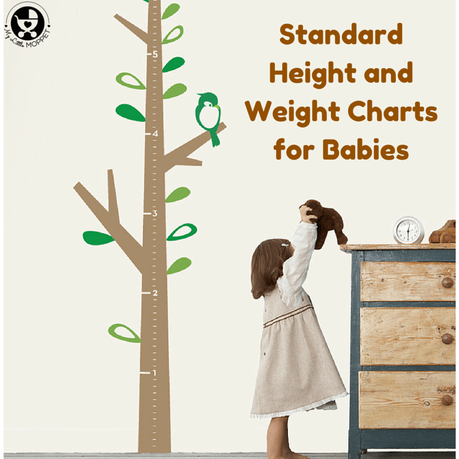 Baby Weight based on Birth Weight
The table shown below is a simple way to calculate your baby's ideal weight according to his weight at birth.
An average child gains 2 kg every year between 3 to 7 years of age and 3 kg per year after that till the pubertal growth spurt begins.
The following charts show child growth standards that were developed using data collected in the WHO Multicenter Growth Reference Study. The World Health Organization growth standards are based on healthy, exclusively breastfed babies from six countries across five continents. These more accurately show how a normal baby should grow.
Baby Growth Chart Interpretation
Before you check out the charts to know about your baby weight, you should know how to interpret the growth charts.
In the below Simplified field charts there are 5 percentiles - 3% , 15%, 50%, 85%, 97%
The 3rd centile line gives an indication where the lower end of the normal range is - actually 3% of normal infants and toddlers will be below the 3rd centile.
The 50th centile is where 50% of the population will sit.The 97th centile gives an indication where the upper end of the normal range is - actually 3% of normal infants and toddlers will be above the 97th centile.So anywhere between the 2nd and 98th centiles is appropriate growth.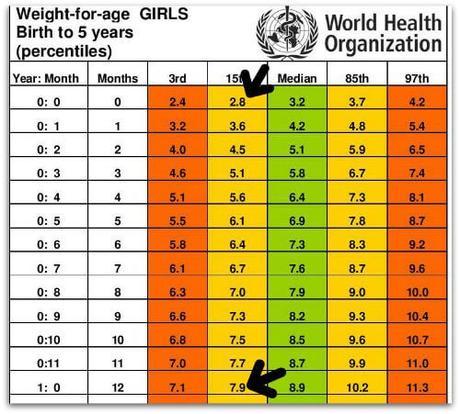 Let's discuss with an example with image above
Girl Baby A's birth weight was 2.7 kg, you can see the above chart it comes under the 15%
( we will not be taking a definite weight, these charts should be always interpreted in a range)
After the completion of One year Baby A weighs 7.8 kg
Interpretation - I would say Baby A has a normal growth and weight gain as she has followed the percentile line.
See the below chart, this is a chart from WHO. So you can plot the weight according to age and see if your baby is following the line, So if I plot for Baby A , she follows the 15% percentile closely which is good. A minor deviation is not considered significant.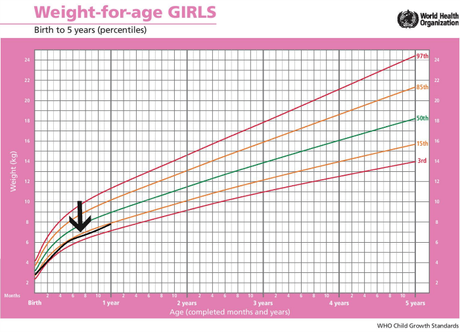 When should you be concerned ?
Don't be concerned if there isn't an appropriate increase in weight over 1 week - wait and see what happens over 3 months. Babies attract lots of viral illnesses so their weight may tend to fluctuate. But over time, they will usually manage to put on the required weight.
For example if Baby A's weight is 5.8 kg on completion of 1 year, I would be seriously worried and that warrants a complete nutritional and developmental check up.
WHO Child Growth Standard Percentile Table
Click the the appropriate link to know about your baby weight and height for age.
Girls Weight for Age - Birth to 5 years Boys Weight for Age - Birth to 5 years Girls Length for Age - Birth to 2 years Girls Height for Age - 2 years to 5 years Boys Length for Age - Birth to 2 years Boys Height for Age - 2 years to 5 years
These are simplified field tables for easy use and interpretation.You can view and download charts from the WHO Website as well.
What to do if your Baby is Underweight
If your baby is indeed underweight, it's a good idea to get him checked out by a pediatrician to rule out any medical problems. If everything is fine, then it's basically a problem with nutrition. Babies who can't latch on properly give up sucking after a while, which means that he's probably not getting the richer hind milk from your breast. When feeding a baby above 6 months of age, high calorie healthy foods like bananas rather than unhealthy options like ice cream. Click this link to know about the Weight gaining Foods For Babies.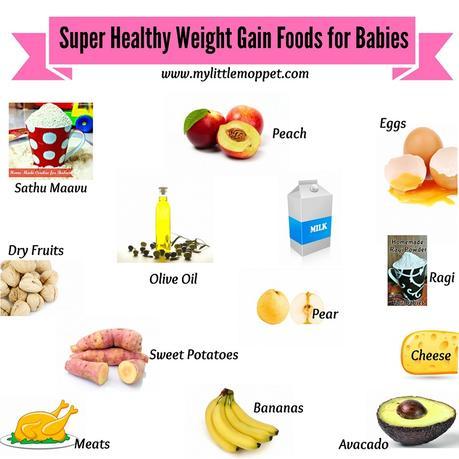 It is important to remember that if you've had a premature baby or multiples, the standard numbers may not apply, and it's best to consult your pediatrician in such cases. In any case, these numbers are not set in stone and will vary from baby to baby. Even siblings can show different patterns in gaining weight; it doesn't matter as long as the baby is healthy, active and developing normally otherwise. So as I mentioned earlier, don't obsess with the scale, just relax and enjoy your baby!
Lots of Love,