We'd read various bits n' bobs about Stan's (whoever he is?) Studio STAN'S STUDIOand finally made the visit recently – it's tiny! 2 tables and a bench with a further 3 stools – you could perhaps just about squeeze 11 customers in (if they all held their breath!). All very Berlin or Shoreditch and now available in Dennistoun on Alexandra Park Street, just off the Parade.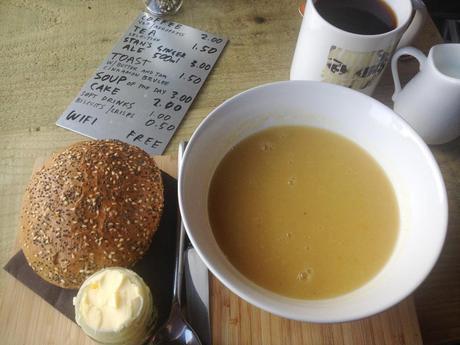 Stan's Studio – parsnip and yellow pea soup
Soup of the day was Parsnip & yellow pea (£3) served with a poppy & seeded roll. A pretty big bowl of warming soup with a good consistency.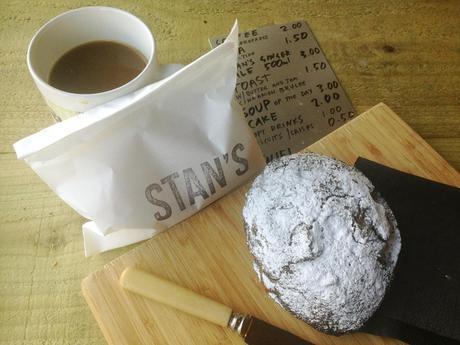 Stan's Studio – coffee and cake
The coffee cost £2 and I couldn't help but notice the higgledy piggledy nature of the cutlery and accoutrements. My coffee spoon came from a Norfolk heritage railway and the salt was in a German glass from Mosel.
The cakes looked amazing and so I opted for a muffin sandwich with salt caramel filling (£3). It looked like a squashed chocolate muffin, soft with sweet chewy line of salted caramel. It was pretty filling and perhaps a bit too big. I also lifted a white chocolate honeycomb tart (£2.50) for later but this wasn't quite as exciting as I'd hoped.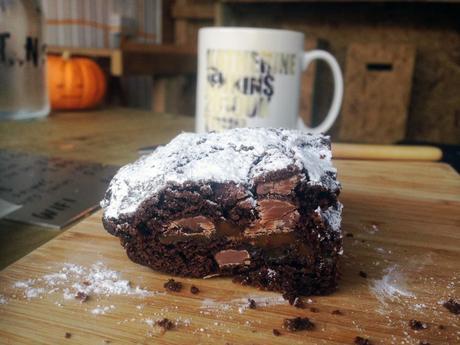 Stan's Studio – Muffin sandwich with salt caramel filling
The sole employee asked me how I found the coffee and to be honest I wasn't sold on it – it wasn't bad, I just don't have the palate to describe what I didn't like about it, it just wasn't totally to my taste = Food blogger FAIL.
No customer toilets but you might be allowed to use them if you ask nicely. The music was pretty good too, modern-sounding but not offensive to my ears, I've no idea what any of it was but one track sounded like School of seven bells.
According to their website Stan's is Glasgow's first Pay What You Want (PWYW) cafe but I don't think this concept was explained to me and so I paid the suggested prices on the hand-written menu which was £10.50. I now plan to go back to work my way through the cakes, listen to some new music and haggle!
Open Wed – Sat 10 – 5. Free WIFI.
Find out more here.