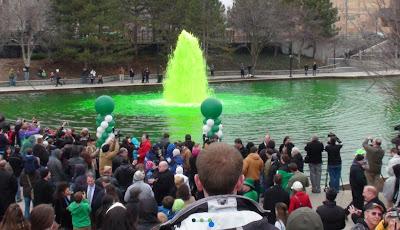 We know spring is near when they announcing the Greening the Canal, which happens the evening before the St. Patrick's Day on Wednesday, March 16th at 5pm. The event takes place on the Ohio Street Canal Basin downtown.
The annual St. Patrick's Day Parade presented by the Hoosier Lottery is set for Thursday, March 17th at 11:30am. The FREE event will include food trucks, activities and there will be a large heated tent in the American Legion Mall with a beer garden with live entertainment.
Speaking of entertainment, Highland Reign will perform at the Parade Tent Party on North Street near the Parade starting line on Friday, March 13th. They will take the Hoosier Lottery stage at 10:00am when Parade marshalling begins and will play till Noon.
The second performance by the band will be Saturday, March 14th at the Annual Shamrock Run Walk as part of the IFD Shamrockin' Mass Avenue Tent Party hosted by the Indy Firefighters Emerald Society. They will take the stage at 10:30am when race registration and packet pick-up opens and perform till Noon.
Children will adore the Parade of Irish themed floats and helium balloons. There will be energetic school marching bands, pipe and drum bands, and Irish dancers. Plus, fun activities and more enjoy throughout the day.
Visit the St. Patrick's Day Parade website for news, schedules, and more details.
Photo Credits: The Athletic Club Foundation