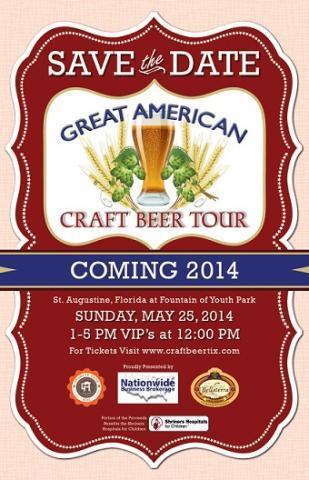 Over the past few weeks you may have noticed signs and posters advertising a new craft beer festival to take place in St. Augustine. Billed as the Great American Craft Beer Tour, the festival is set to take place in St. Augustine on May 25, 2014. The Fountain of Youth Park will play host to the event and organizers plan to include great food and music to round out the event for a full day of entertainment, food and craft beer.
With decades of combined experience producing festivals, ranging from Oktoberfests to Live Music Concerts, the Great American Craft Beer Tour, LLC partners made a decision to combine their talents and concentrate on craft beer. The group pioneered the "festival within a festival" concept by putting a separate craft beer festival within "underperforming" events. This opened up the possibility of cross-promotion thereby expanding the reach of the event and creating greater buzz. And by holding the festivals in smaller cities, the organizers hope to bring more attention to the host communities.
"The idea," said founder and CEO, Tom Kiermaier, "Is to bring the craft beer craze to areas that are less likely to be exposed to great craft beer. There may be fewer opportunities to sample different styles of craft beer in these cities, and that is where we come in."
GACBT plans to feature local and regional breweries in the area of each event, while also bringing in some of the national craft beer brands. The result is a greater number of people will have the opportunity to expand their beer tasting horizons. Over one hundred different beers will be available at most every event.
Attendance for these craft beer festivals is projected to grow from 2500 to 5000 attendees over the next two years and include up to 25 cities.
Tickets for the event are $40 in advance and $50 the day of the event and are available at: www.craftbeertix.com
A portion of the proceeds from each event will be donated to Shriners Hospitals for Children, as well as a local charity.
You can learn more at the group's website: www.greatamericancraftbeertour.com