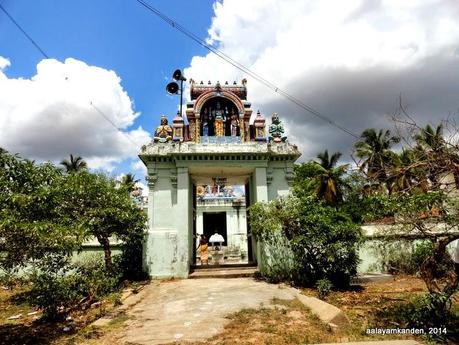 Sri Kalyana Varadaraja Perumal Temple, Sri Vanchiyam
Srivanchiyam - The place where Lord Vishnu worshipped Lord Shiva to be united with his beloved - Goddess Lakshmi (Sri). This wonderful place has the famous Sri Vanchinathaswamy temple where hundreds of devotees come everyday to bathe at the Gupt Ganga Theertham, and worship Lord Yama who is not just the Kshetra Palaka but also becomes the Vahana of Sri Vanchinathaswamy . This temple is very famous for those suffering from kidney ailments.
Lord Vanchinathaswamy is said to have turned around during the Pralaya as a result of which Harathi is shown both before and behind him. Goddess Mangalambikai is seen and worshipped as Durga, Lakshmi and Saraswathi during the morning, afternoon and evening respectively.
So how did the name Sri Vanchiyam come? Let us look at this interesting story.
Once Goddess Lakshmi and Lord Vishnu got into an argument over a trivial issue. Expecting the Goddess to forget the argument and converse with him normally, Lord Vishnu went about his chores. But the Goddess was not pacified. At one point, angered by the happenings, she decided to leave him and go away.
Once Goddess Lakshmi left him, Vishnu found that all his prosperity and power had gone away with her. Over time, he missed her very badly and could not concentrate on his tasks of protecting all lives on the universe. At that time, Lord Brahma advised him to go to Bhooloka and worship Lord Shiva with sandal leaves and pray to him to help bring back Goddess Lakshmi to him.
So Lord Vishnu came to Sandhanaaranyam, and installed Lord Shiva and started worshiping him sincerely with sandal leaves. Lord Shiva was moved by Lord Vishnu's devotion and counselled Goddess Lakshmi to forget her anger and forgive her Lord. The Goddess relented, and was united with her husband.  Lord Shiva blessed them and said that the complete benefit of worshipping him at Sandhanaaranyam would be got only when the devotees also worshipped Lord Kalyana Varadaraja Perumal and Goddess Sridevi.
The sandalwood forest (Sandhanaaranyam) came to be known as Sri Vanchiyam - the place where Lord Vishnu got back his beloved Goddess Lakshmi.
Goddess Lakshmi felt bad about her hasty decision and made a vow never to separate from her husband again. She created a small pond and bathed in it and prayed that she should never be seperated ever from her husband. Lord Vishnu was pleased and agreed to stay there with Goddess Sridevi as Kalyana Varadaraja Perumal.
If the Lord and the Goddess are here, can Adhiseshan and Chakrathalwar be far behind? They too came down to Srivanchiyam, created small theerthams each, bathed in them and worshipped Kalyana Varadaraja Perumal and Sridevi Thayar.
This temple is on the street next to the Vanchinathaswamy Temple. I had an opportunity to visit Srivanchiyam few days ago. When I asked at the Vanchinathaswamy temple about the Kalyana Varadaraja Perumal Temple, people looked at me strangely. "That temple is never opened" was the standard response. "But I have heard the worship at this temple is complete only when Lord Kalyana Varadaraja Perumal is also worshipped?"I ask. "You can pray from outside"again the nonchalant response.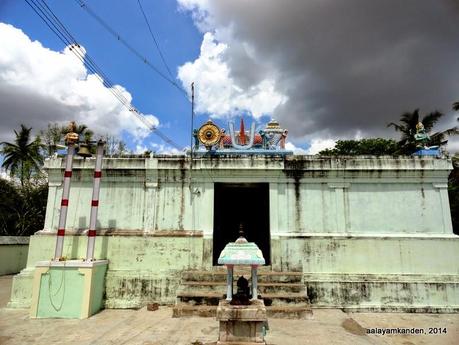 A view of the simple structure of the Kalyana Varadaraja Perumal Temple
Determined to at least pray from outside, we went to the Kalyana Varadaraja Perumal temple. To the surprise of the locals who accompanied me, we found the temple door open. Shri Varadaraja Bhattar, the priest at the temple was carrying water into the temple. He welcomed us warmly.
The temple is basically just one shrine with an artha mandapam and a vahana mandapam and dwajasthambam and Garudazhwar outside. Behind the temple is a newly constructed (!) Anjaneyar shrine.
The Bhattar said that he had started performing aradhanam at the temple quite recently before which the temple remained locked for many months.
The Bhattar narrated the unique experience he had had that made him commence working with the temple. He said that he performed aradhanam at another temple where his family had been working for generations. One day, a tall, dark man with prominent "Thiruman" (Namam markings on the forehead) had come to his house, while he was away at the temple and told his mother that the Kalyana Varadaraja Perumal temple was looking for a priest to do aradhanam at Srivanchiyam. When his mother informed him of this, he had come to Srivanchiyam to find out who had called him while he was already performing poojas at another temple. To his surprise, he found that the temple had remained closed for months and there was no possibility of anyone having come from there, asking for a priest.
So he went back to his house in Semmangudi. But the temple stayed in his mind. So he decided to pass by the temple on his way back from the other temple. For three days in succession, the vessel containing Chakkara Pongal would fall when he was in front of the temple. This made his understand that it was the Perumal himself who had come to his house asking him to do aaradhanam for him. So he approached the villagers and requested them to allow him to perform aaradhanam at the temple.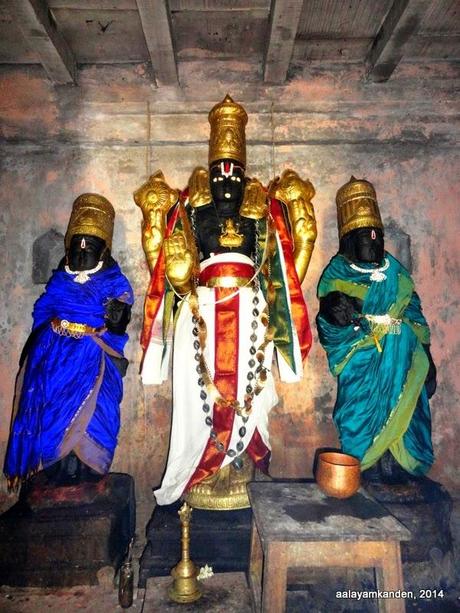 Sri Kalyana Varadaraja Perumal
We were moved by his tale and devotion. However, help has not come his way. He hardly has any rice or oil to light the lamps. Hundreds of devotees who come to the Vanchinatha Swamy temple do not know that such a wonderful temple exists nearby nor are they guided by the locals who themselves are not aware that the temple is open these days.
Varadaraja Bhattar showed us two huge idols that have been in Balalayam for many years now. He says he had to clear loads of clothes and other items that had been dumped on the boxes storing the idols. His sincere hope is that some day help will come along to take the idols out of the boxes of wheat and allow everyone to worship them.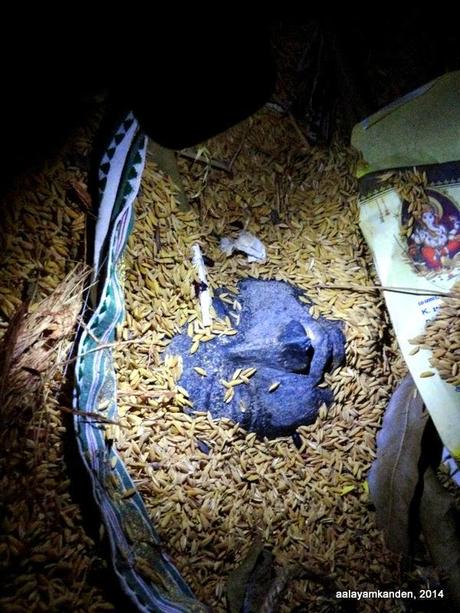 He further mentioned that this temple was very beneficial for those women who suffer from marital disharmony. Bathing at the Lakshmi Theertham and praying to Lord Kalyana Varadaraja Perumal has allowed several broken families to reunite and live happily.
Similarly, bathing in Sesha Theertham created by Adhiseshan and worshipping Kalyana Varadaraja Perumal rids one of Naga Dosham thereby enabling child birth and bathing in Chakra Theertham created by Chakrathalwar rids one of Brahmahathi Dosham.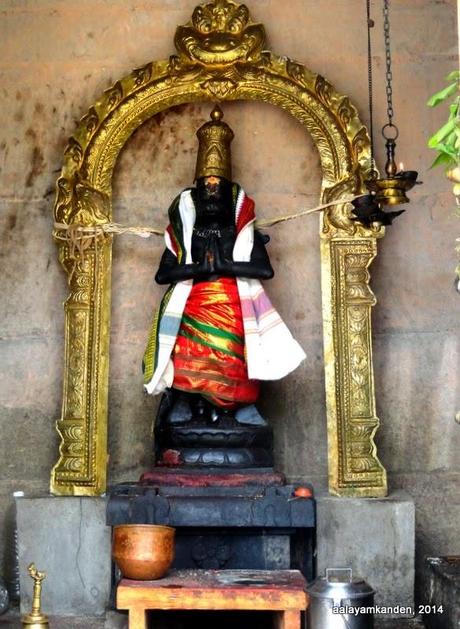 There is a newly created Hanuman shrine at the Vayu Moolai of the temple.
Every month, through Aalayam Kanden Trust we distribute ghee and oil in ancient, lesser known temples. Moved by the status of this temple, I organised through a friend of mine to provide six kgs of oil for immediate use which was received by the priest with many thanks.
The other immediate requirement is rice for aradhanam. If any of you are planning to visit Kumbakonam or Thiruvarur, please stop by at this wonderful temple and help in whatever way you can to support its maintenance. You will receive the blessings of Sri Kalyana Varadaraja Perumal in bounty.
How to get there:
Srivanchiyam is 16 kms from Thiruvarur and 28 kms from Kumbakonam. From Kumbakonam, while proceeding towards Nagapattinam through Nannilam, the temple is 1.5 kms from Achuthamangalam.
Temple Timings:
The Bhattar usually comes in the evenings as he is already performing poojas in another temple. However, if we were to inform him about our arrival, he would wait for us at the temple. This is the current situation as not many people visit the temple. If the flow of devotees increases, the likelihood of the temple remaining open for longer is more.
Contact Details:
Shri. V.Varadaraja Bhattar 94424 67631