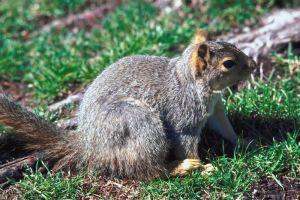 CBS Local reports
Protesters from New York City headed upstate Saturday to demonstrate against a squirrel-killing contest in the small town of Holley.
The 7th annual Hazzard County Squirrel Slam was sold out Saturday, with all 1,000 tickets spoken for. The contest in Holley – a town of about 1,800 approximately 20 miles from Rochester – will raise money for the volunteer Holley Fire Department, the event sponsor.
Prizes ranging from $50 to $200 were being given out Saturday for the largest squirrel shot and the heaviest group of five squirrels. Five rifles and shotguns are to be raffled off, according to a flier posted on the Holley Fire Department Web site.
"Declaring someone a winner for killing the most animals influences children and the wider community to believe that wildlife is unimportant and killing for a monetary prize is meritorious," Brian Shapiro, New York state director of the Humane Society of the United States, wrote in a letter to Holley Fire Chief Pete Hendrickson.
Mr. Shapiro speaks very nicely. I would just say it's fucking sick.
What's your opinion?  Please leave a comment.