You may remember the Dolly Parton song? "Working nine to five, what a way to make a living..." Spoiler alert: this race took me 8 hours! I started at 9 and finished at 5. I have to admit, I was not really prepared to be on my feet that long.
But I am getting ahead of myself.
This is what the race director wanted out of this course:
1) Super Challenging
2) As scenic and beautiful as possible
3) A wild experience that doesn't feel contrived
The race started at Alice Lake, which is a little bit north of the town of Squamish and sits at an elevation of about 600 ft.  There was an early start at 8 a.m. for those who did not think they would make the 10 hour cut off. I have to admit, I wasn't really sure where I would stand for this race. The hard thing about trail races is that you can't necessarily say that if you run one 50k in 5 hours you will run them all in 5 hours. So far, the few that I have been: 5:09 (about 5,000 ft gain), 6:30 (about 8,000 ft gain) and 5:04 (about 4,000 ft gain). So I figured that this race, at about 9,000 ft gain, would take me about 7 hours.
Amber started at the early start, so I hung out and cheered her on and then went to watch the 50 mile runners come through with Amber's mom. While there, I befriended one of the volunteers, and we all had a great time chatting and cheering on the 50 mile runners. Then it was my turn to start. Our race started at 9, which seems pretty late to me. Usually these races start around 7.
The first 6 miles were relatively flat (it was slightly uphill) and mostly consisted of a nice spongy, soft single track which made it way through the trees. So this was nice and shady and at this point it was not too hot. The first aid station was at about 5 miles, and I quickly grabbed an orange and a swig of water and moved on. The next four miles were straight up.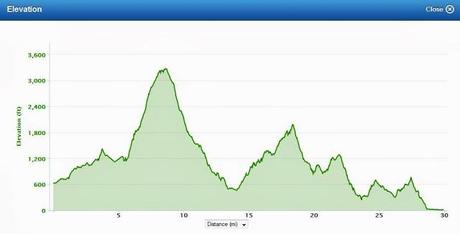 Error #1: The night before, I had put my bladder in the freezer, thinking that it was going to be really hot (temperatures were forecasted in the 90s). However, it was not as hot as I thought it would be, and even the extra hour in the morning did not give it time to melt. I barely had any water for this entire climb. As it would melt, I would get a sip, but it wasn't enough. Luckily the reason that it wasn't melting is because it was cool outside, so I wasn't overly hot.
Error #2: I focused a lot on the uphill in this race when I looked at the course map, but the downhill is where I really had a slow down. The first uphill, although it looks pretty steep, was fairly easy. The trail was not as steep as I thought it would be. The first big downhill was a killer. It was a single track, rocky, technical trail which was difficult to get down without hurting something. So I took it pretty slow and got passed a lot on this section.
There was another aid station in the middle of the downhill, which was pretty sparse; I think it was water and M&Ms. I filled up my water (thankfully) and headed down the trail. I caught up with Amber right around km 20 / mile 13 and ran with her for a little while before breaking off and finishing the rest of the downhill portion. At the bottom of the hill was roughly the halfway point at Quest University, where there were icy buckets for head dipping. Also, the best thing ever, Amber's family was there and they did a great job hosing me down with sunscreen and bolstering my spirits for the next big climb.
The next section was a single-track switchback up the hill. There was a loop and a hill and some beautiful views. Somewhere in the middle of the loop, which was around km 33 / mile 20, I started to feel like I was ready to be done. I started nibbling on a Clif bar and it was my mark of how far I was. I would take a bite and then tell myself I would take one more bite at mile 21. Then it was "one more bite" at mile 22. Bite by bite, mile by mile, I got to the 40 km / 25 mile aid station.
Amber's family was there taking (bad) photos of everyone (me) and her Mom made sure that I didn't need band-aids, bug spray, food, water, socks or any other necessity. I have to say, having spectators (and "crew") at those aid stations is really nice for the runner, although sitting in the sun and waiting for a runner is not the most fun thing for them! From this aid station there were only 10 km / 6 miles left.
It was not an easy 6 miles. There were some pretty big uphills (for tired legs). There was rock scrambling and stairs. There were bike ramps that were really steep. There were bridges. It was hard. I kept thinking, "if I walk the whole way, I can still make it in ___ hours". Running math is not my strong suit.
But then, we were out of the woods (literally) and on the pavement of downtown Squamish. It was flat and paved and "only" 2 km of running from there to the finish line, were I crossed the line, got a photo taken and got a high five from the race director.
It was just what he said it would be. It was challenging; it was scenic; it was WILD.
What's the hardest race you've ever done? Do you ever do all day activities?