Perkins+Will creates a sustainable, modular classroom for the 21st century.
Slideshow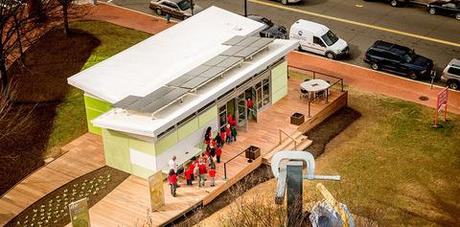 The Perkins+Will designed Sprout Space™ modular classroom includes an outdoor classroom and educational garden. This high-performance building includes solar panels on the roof which offset most of the energy needed to operate the structure.
Educators throughout the country are growing increasingly aware of the need for innovative designs in 21st century classrooms. From WORKac's mobile greenhouses in New York and Burton Baldridge's outdoor classrooms in Austin, Texas, many architects are focusing on developing new educational spaces that are dynamic, adaptable, and sustainable.  
New York based architecture studio, Perkins+Will, has become a key agent in this initiative, drawing from a wide array of green building strategies in order to enhance the learning process. Their Sprout Space is a modular classroom, customizable as either a permanent or temporary space, that aims to provide a flexible stage for creative educational approaches.  
With Sprout Space, Perkins+Will has made a conscious effort to create a healthy educational environment through the choice of building materials, use of daylight, and increased ventilation in every classroom. These decisions were supported by numerous design features such as sun shades, integrated rainwater collection, efficient heating and cooling systems, and eco-friendly materials, which all help bring Sprout Space closer to becoming an energy-independent classroom.