Once April hits, it seems 75% of the questions I get from you readers is what to pack for trips. Spring Break, April in Paris, a need to get away after a cold dark winter, whatever the reason now is the time for travel. And while the temps are rising, it's not yet summer and important to pack for the elements. Nordstrom recently asked me to feature The North Face on Wardrobe Oxygen for spring and at first I found it an odd choice; when I think of The North Face I think heavy puffer coats and eTip gloves. However, taking a look at The North Face collection at Nordstrom, I found many pieces that are perfect for spring travel, and for creating a classic travel capsule wardrobe that will have you ready for any trip any time of the year.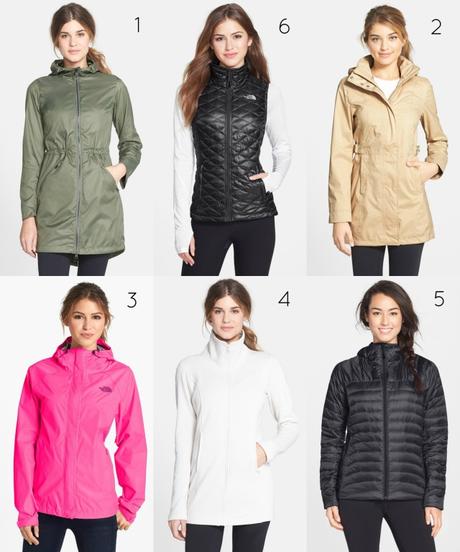 1. A couple years ago I bought a packable raincoat and it has been one of the best buys. While I rarely shove it back into its pouch, it's a jacket that can be smushed into a bag taking up little room and not being destroyed, is a simple cut and style that can pair with jeans or even a dress, and the hood makes it far better a choice on inclement days than my trench. When I travel, I always bring it along for anything from a breezy day to a full-on rainstorm. The North Face's 'Rissy' Packable Wind & Water Resistant Jacket is similar to the packable trench I own but better with higher security zipper pockets and an adjustable waist to create a flattering feminine shape. In two classic colors, this will be your must-have for all upcoming travel as well as spring showers back home.
2. The 'Laney' trench raincoat from The North Face is another winner, and the customer reviews prove it. Lightweight, well-shaped to flatter not just the figure but the head when the hood is up, and more classic of trench styling without losing functionality or packability. Not only that, the coat is made from 100% recycled polyester! Available in three colors, this is a beautiful hybrid of style and function.
3. For those who prefer a more casual or athletic-inspired rain jacket, the highly rated 'Venture' from The North Face is a popular choice. Available in nine colors, this packable hooded jacket is a winner even for tropical trips, when warm sunny days may be hit with a mid-afternoon shower.
4. Fleece jackets are brilliant for travel. They're cozy and can ball up nicely for a neck pillow on the flight, add warmth without bulk, and are water resistant. I like the 'Lunelly' Jacket because it's a longer length than many fleeces, better flattering the figure. The logo is tone on tone keeping it subtle and the stand collar adds some style to a piece that would make a perfect addition to any travel capsule.
5. I'm all about the packable outwear; it's hard to be prepared for the elements and still have room in your suitcase for the rest of your wardrobe! Packable coats and vests make it possible to have both. The 'Tonnerro' jacket is great because it's a classic look, comes in three great colors (this link is for red and black, this link is a pretty light blue), and it has a hood. This is a coat that will be great for travel but also for the everyday come fall and winter.
6. Last winter I purchased a quilted vest and it was one of my best purchases. For a morning walk I'll slip it over a running top and even a fleece to keep my core warm without overheating. On weekends I throw it over a Breton tee or plaid flannel for style with warmth. And when traveling, it's a great choice because it can be worn on its own or layered over or under another jacket for extra warmth without taking a ton of space in the suitcase. The North Face's 'ThermoBall™' vest is a great choice because it's lightweight, machine washable, but just as warm as 600-fill down. Available in six colors.
Shop the Post:

Turn on your JavaScript to view content