Inspiration comes in many different forms- a tropical printed dress can inspire fruit salad for dessert later that night; an old photograph can remind you of the summer you fell in love and inspire a romantic getaway; a red carpet gown in the prettiest shade of red can inspire you to stock your closet with the color it's been missing for years. Whatever the form of inspiration is, this time of year is where we find it all around. 2012 has gotten off to a fashionable start on the many award show red carpets we have seen. Not to mention, S/S 2012 collections are starting to fill store windows with bright, exotic colors. And since this week is NYFW, let's take a dive into Spring fashion before the Fall 2012 collections come parading down the runway.
All I need for inspiration is an image; one single shot from an editorial spread, or a street chic style post from a fashion blogger can send me on a shopping spree for hours (even if it is just window shopping!). That's why with every passing season, I create a style board filled with shots from here and there that will inspire my every day looks. And since you can't create the same look every day, these inspirational images run the gamut from evening gowns, to jewelry sketch boards, to even sometimes, beautiful interior design. The whole point of creating this style board is to pull colors, textures, shapes and overall feelings that will continue to push your definition of personal style further and further.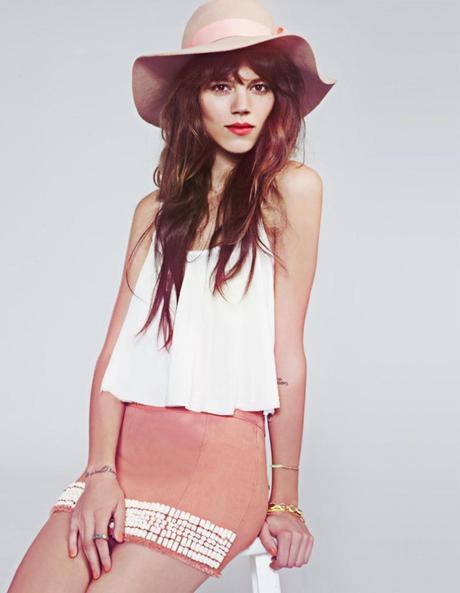 This image here is one that I only recently printed to add to my style board the next time I change it up! For their February catalog,
Free People
cast supermodel Freja Beha Erichsen to model their beautiful spring wardrobe. Taking a break from her gigs with Chanel, Harry Winston, Isabel Marant among other couture brands, Freja trades in her usual edgy look for a "girl next door" smile and style. As one of my favorite models and one of my favorite brands, this Free People catalog shot inspired so much more than wanting to get coral lipstick and a wide brim hat.
So without further ado, here is my dream spring wish-list! Spring just won't be the same without these style essentials!
Tangerine & Tulip- This was a 2-in-1 find! With its perfectly draping asymmetrical hemline, flattering wrap style and vivid tangerine color, this tulip skirt is a must have!
Fringe Fun- An easy accessory to add texture and bohemian flair to any outfit- just toss it over your shoulder! Don't go too overboard with beading or long fringe, but keep it simple and small.
Delicate Details- As someone who has always been a fan of cocktail rings, statement necklaces and loads of bracelets, I am trading that all in for dainty jewelry pieces this season. Simple bangles and dainty pendant necklaces are more like it!
Pump up the Pink- If there are two things almost every girls loves its shoes and the color pink! This edgy silhouette and hot pink color are the perfect combination to get you through any season!
Black Basics- What is spring or summer without your favorite worn in pair of denim shorts? This season try out black denim for a look that is a little bit more polished without being too formal.
Stylish Sunnies- Cat eye sunglasses made their comeback last Spring, but this modified silhouette is bound to work for many different face shapes. And it's the perfect way to go retro without being too literal.
Classic & Cool- You can never go wrong with a button-up blouse but classic doesn't have to mean white. A pale sunshine yellow and oversized fit will make this the perfect breezy layer for sunny afternoons.
Walk Down Memory Lane- Remember getting a fresh pair of white sneakers as a child and having only a few short days (or hours) to savor their crisp clean color? Since you can probably keep them cleaner much longer now, invest in some comfortable and chic Converse high-tops for an all American look that will never go out of style.
Splashin' Fashion- I recently fell in love with Essie's new shade of blue, Mesmerized. Spring style inspires me to wear more daring colors on my nails instead of the classic reds, nudes and glitter polishes I wore for the holidays.
The Color Purple- Ever since Prabal Guring presented his S/S '12 collection this past fall, I knew I was going to want anything and everything I saw in the same gorgeous purple hue that dominated that runway. This standout color is so flirtatious, best to keep it in minimal silhouettes and simple accessories.
What are some items, colors, or trends making your spring style wish-list? Share with us here by leaving a comment on this post, or our Facebook or Twitter pages!