Today is officially the first day of spring, finally. Hearing that the season has changed is great however I wish the weather outside would have listened up a bit more! Sadly here in the UK it doesn't look like the sun is going to shine for a while but hopefully the temperatures will pick up soon so we can really get into the spirit of the season. Even though the outdoors doesn't reflect spring I have put together a few boards which do!
Spring home
Starting with home interiors I have picked a few of my favorite pastel items that make me think of spring, the soft shades will be a great addition to any room.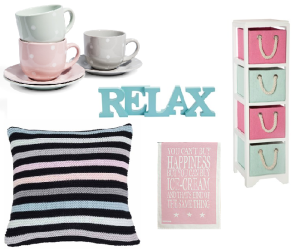 Relax sign – Matalan
4 tier drawers – Matalan
Pastel tea cups – Maison Du Monde
Striped cushion – Amara
Tea towel – Not On The High Street
Spring fashion
Next is a cute and casual spring outfit, perfect for those days when the sun is creeping out, sadly the background doesn't quite look like my view out of the window!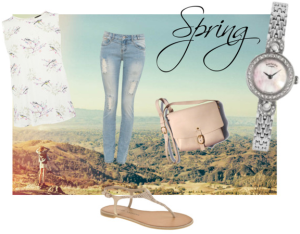 Top – Warehouse
Jeans – New Look
Shoes – Fashion Conscience
Bag – Boticca
Watch – Moores Jewellers
Spring beauty
Last but not least a few spring beauty products so you can smell gorgeous, add pretty colours to your nails and more, enjoy!