The weather has been a little bit warmer this last few days, which makes a change from the 5inches of snow and -7C weather we had for the few weeks before. I was able to walk the dogs at the weekend with just a hoodie - no coat! So even though it's still winter really, I'm starting to get excited about the onset of spring and all the different things Isabelle and I will be able to do with the lighter, drier days.

So here is my spring bucket list...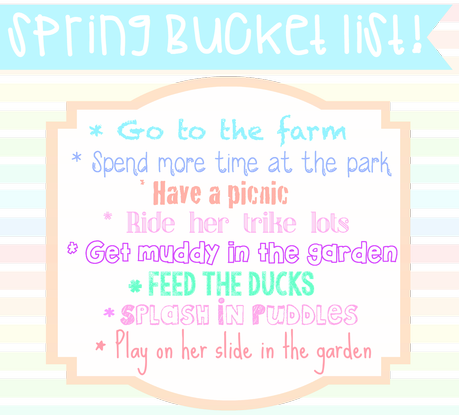 It's not going to be long until I am back at work 5 days a week, so I want to make the most of the time we have together at the minute. Swimming, gymnastics, birthday parties, breastfeeding group and lots more insider activities will be happening too, but it's the outdoor bits that I am really looking forward to.
Fingers crossed it doesn't rain the whole time...