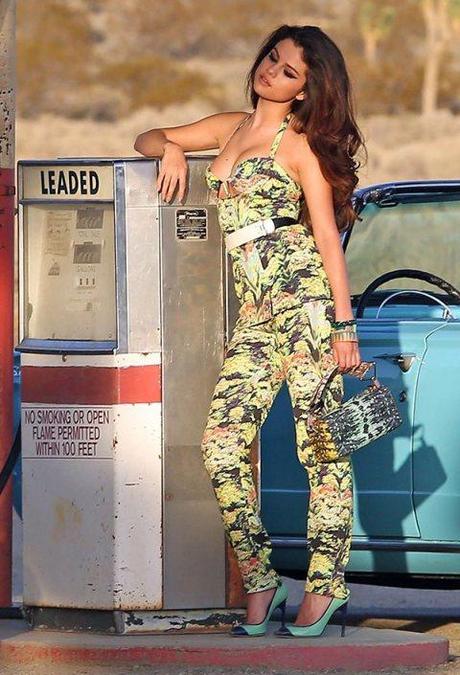 Selena Gomez on the set of her new music video on March 4, 2013. The pop star has revealed that her upcoming album will drop in April, so we could be
[Image from http://pmchollywoodlife.files.wordpress.com%5D
The dance track is all about the pop star's breakup with teen heart-throb Justin Bieber.
It's no surprise that former Disney princess Selena Gomez took a page from BFF Taylor Swift's book and wrote one saucy breakup anthem. Titled "Rule The World," the dance pop track dishes on her relationship with Justin Bieber.
Many got the chance to preview the track when it leaked midday March 13, 2013.
In the opening verse, Gomez shatters the picture-perfect image captured by the paparazzi, revealing that the Biebs wasn't stepping up to the plate: "I'm conscious but I'm lonely, half way dead/ Tired of the things you never, you never said."
As for the chorus, Gomez laments their ruined relationship and wishes things could have been different: "Our love was made to rule the world / You came and broke the perfect girl/ Our love was made to rule the world/ You left me wanting what we were/ Our love was made to rule the world."
If "Rule the World" is any indication, we've going to have one flawless pop record in our hands when its April release date rolls around.
"I made a huge fun dance record that I'm so proud of," said Gomez in a recent interview with Teen Vogue. "I got to record 20 or so great songs and work with a bunch of different producers and they're all really fun, pop songs and a little Ellie Goulding-ish, a little island-y feel."
"I'm super stoked for it," Gomez went on to say. "It's kind of been hush-hush about it and I'm excited for the single to come out and for my fans to hear it."
Given that no one from Gomez's team or from Hollywood Records has released a statement, it's safe to say the "Rule The World" release wasn't planned. Since the song's midday début, most, if not all, YouTube videos have been removed for copyright infringement.