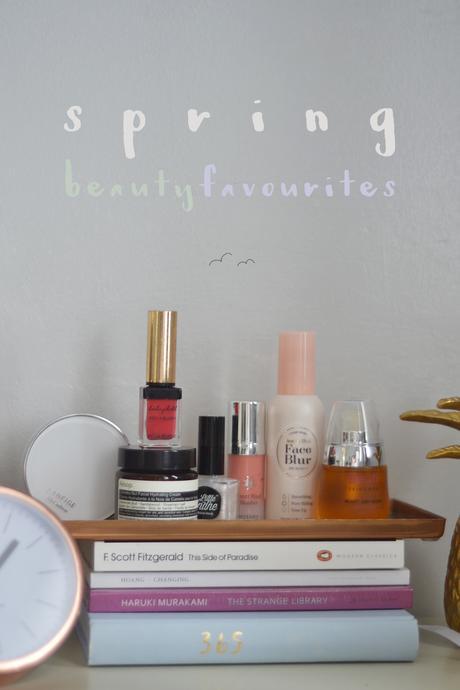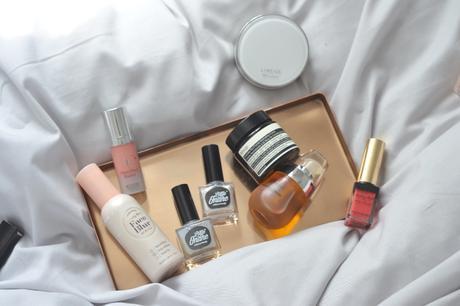 A medley of beauty favorite this S P R I N G.
When it comes to beauty products, I'd like to think I've pushed aside old habits of weekly Boots hauls and placing my frivolous focuses on getting my hands on the latest hyped-up product.
Instead I've slipped into a good(ish) routine full of products that I love using, hence the radio silence on new discoveries and buys - I simply don't venture anew much nowadays.
After returning from our recent holiday in Japan, however, and y'know, those obligatory wanders in the Selfridges and Liberty beauty hauls in between meetings, I *think* I might be able to confirm a few new game-changers in my personal beauty running. Meet my spring beauty favourites: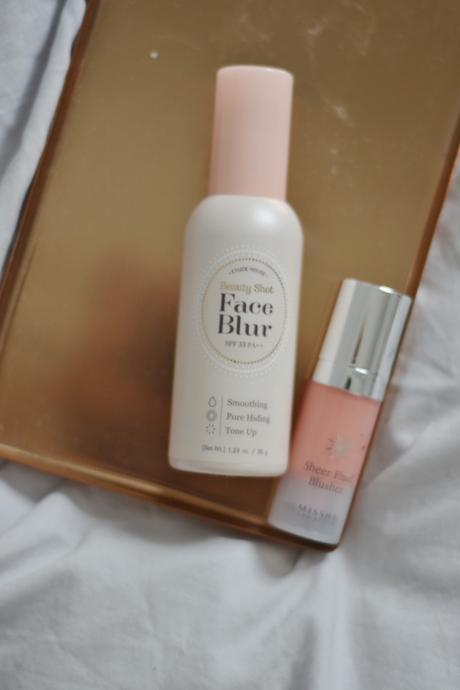 Etude House's Face Blur
Still part of my everyday beauty routine, I'm in the throes of obsession with
Etude House's Face Blur
. This works as a fluid brightening primer that blurs pores and offers SPF33 protection. And I'm all about the SPF.
I mix this with a dot of BB cream and feel comfortable in the knowledge that I have a dewy, light coverage base with plenty of glow and protection. Forever my favorite. I even bought back-ups in Japan!
Shop it here.
LUSH's Sweetie Pie Shower Jelly
I rediscovered Sweetie Pie after my friend gifted me a pot for my birthday earlier this year and I'm utterly back in love. The scent reminds me of Vimto (it's the same as their The Comforter bubble bar) and I find it's a scent that hangs about too. Plus, it's vegan and cruelty-free which is a lovely bonus in my book! I'm currently rationing mine because it's been discontinued(?!) - say it isn't so!
Aesop's Camellia Nut Facial Cream
I wax lyrical about this moisturiser from Aesop all the damn time. It's the only moisturiser I've used for the past two years and I couldn't speak more highly of it. This one is great for dry skin, although I have 'normal' skin and it works perfectly on me too. I find it absorbs nicely and sits well underneath makeup on the few days that I actually wear it. It's somewhat on the pricier side if you're not a skincare obsessive but, you know, save up those Selfridges and Liberty points! I always
always
stick by the mantra of investing heavily into things that you're applying to your actual face.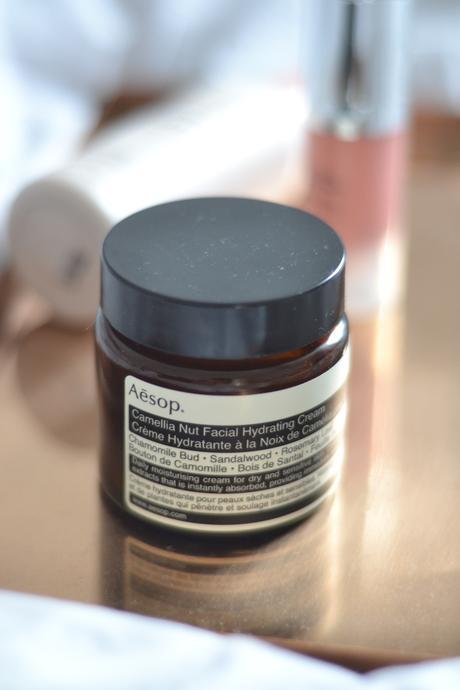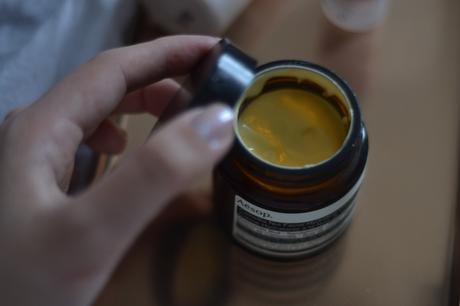 Shop it here.
Little Ondine Peelable Nail Varnishes
If anything has revolutionised my beauty routine this season, it's by far my new Little Ondine polishes. I was ever so kindly sent one, plus a top coat, for review and I'm quite the fan. I opted for a glitter polish because we all know how the horrific task of removing glitters goes and, honestly? Life. Changed. Glitter polish that looks darling and offers a glimmering hue and that also peels off easily when you're done with it.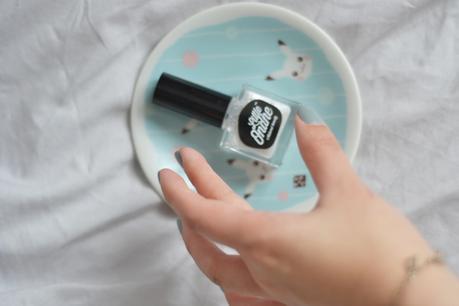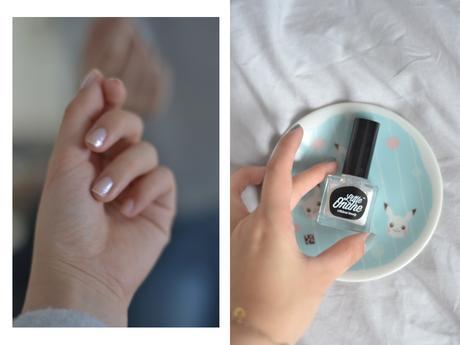 It doesn't chip easily but I will mention that you should be prepared for the layers to peel with natural wear and tear. Tearing around after a lively puppy means I'm often missing one or two nails! Aside from that, these babies pride themselves on being odour-free and crafted of natural ingredients including water, organic resin and minerals.
Shop them here.
Missha's Sheer Fluid Blush
I picked up this coral blush from Missha in Seoul back in February and I reach for it more often than not. You only need the smallest amount, patted and blended between the fingers, and applied to the apples of your cheeks for a pretty and subtle flush of color. I'm slowly but surely working myself up to that K-pop idol neon coral cheek look! ;)
Beuti's Beauty Sleep Elixir
I'll put my hands up and say now that it is very rarely that I receive a press release for a skincare product and accept it for review consideration but I'm *SO* glad that I did with this one.
Beuti's Beauty Sleep Elixir
is supposedly used by Kate Middleton herself and I was mostly intrigued to sample a nighttime oil full of plant-based oils, an anti-inflammatory blend of ingredients that reminded me of my beloved Kiehl's Midnight Recovery Concentrate.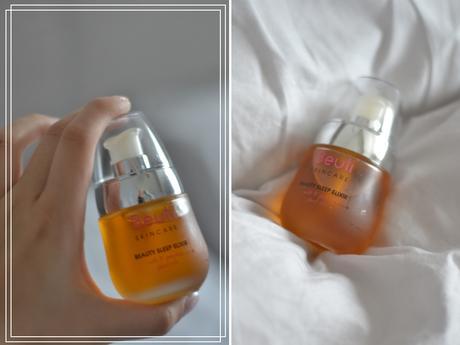 After my mishap with said Kiehl's MRC, I've been after an oil to quench my skin at night and I'm really impressed with this one. Firstly, the oil is light and smells beautifully fragrant. Secondly, my skin positively glows by morning (see on Snapchat for yourself! - @winyeemichelle) and is much more manageable to work with. And lastly? The pump. The pump! Easily trumps the Kiehl's pipette dispenser that never pairs well with Clumsy Mish Syndrome.
Shop it here.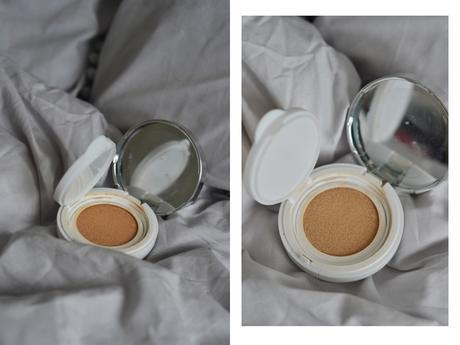 Laneige's BB Cushion
With the warmer and brighter weather as of late, I find that I don't wear as much makeup and, coupled with the above oil elixir, I rarely need it either. In place of my usual BB creams, I've fallen back in love with my beloved BB cushion. The Laneige is still my favorite and you can see my full review
here
, but I just love how it sits on my skin even when the temperatures hot up.
Shop it here.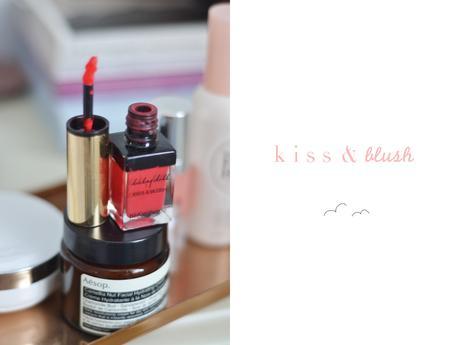 YSL Beaute's Kiss & Blush in 05
Finally, I'm over the moon that it's pink lip season!! YAY! As much as I'm partial to a red lip, I'm loving how a juicy pink lip adds springtime finesse to all of my outfits. This Kiss & Blush is almost completely used up but it's by far my favorite hue for brunch-surviving, demi-matte finish goodness.
- - -
And so I'll pass the beauty baton to you :: what are you currently enjoying using? Any recommendations for me? I'm after a new toner at the moment as my stocks from Hong Kong are running low!
Shop my spring favourites: