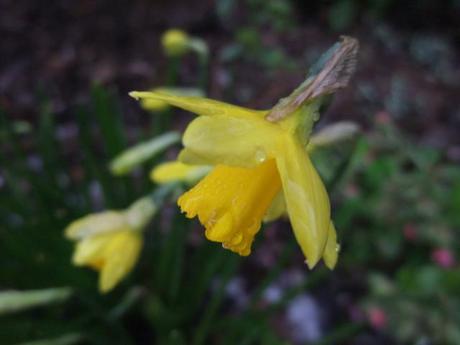 You would think booking the last week of March as annual leave would be a safe bet for some gardening time.  Not so.  Whilst officially we are in Spring the weather outside is still very wintery.  I awoke this morning to snow, not enough to snow us in but enough to make the journey to work unpleasant.  It has rained all day with the odd bout of sleet and the patio is now flooded (photo below taken at 3:30pm).  The forecast says we will have snow from around 4am tomorrow to 8am on Sunday.  So no sooner had I removed the fleece from the overwintering perennials waiting to be planted out than it was back on but it felt very strange standing on a flooded patio putting out fleece.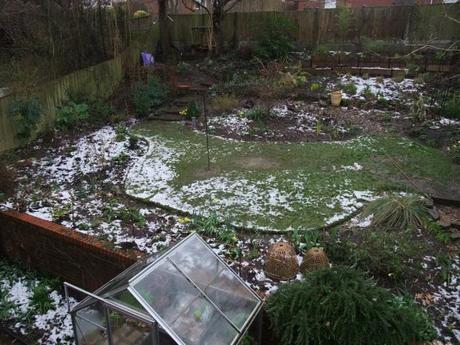 I have to say though that sitting in the living room looking out at the garden I am starting to think that maybe Spring is trying to arrive.  There is a distinct greeness about the borders, with new shoots of daylilies, delphiniums, iris sibirica pushing through the soil and daffodils and snowdrops flowering away although it isn't that obvious in the view above.  I'm sure the snowdrops have normally finished by now, it's almost as if they are frozen in time.  All this time gazing at the garden waiting for the weather to improve is partly helping me recognize the areas I really like but also making me dither around on what to do with the back lawn.  The lawn IS going that is a given but the question remains about paths.  This is only because I particularly like the front of the woodland border and the shape of the lawn there!!  I want to be able to walk by the witch hazel so I am toying with a grass path here and of course my lack of design understanding doesn't help so I am trying to think about how I traverse the space so any paths are at least practical. In the photograph the area seems so small but when I am in the garden it seems quite a large area.  I have though made progress with the back fence and the Pyracantha have arrived to be planted out as soon as it warms up and dries up a bit.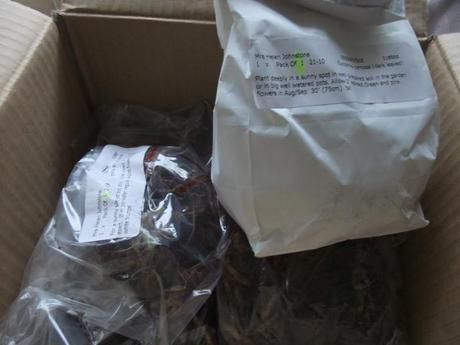 It was quite heartening to come home to a box of summer bulbs from Avon Bulbs.  I was obviously feeling the need for some warmth when I ordered them and dreaming of warmer climes. So whilst the new steps that all the material has arrived for today won't be going in this weekend at least I can pot up the bulbs: Agapanthus Alan Street, Agapanthus ardernei, Bessera elegans and Eucomis comosa.
One of the other jobs I am hoping to do this coming week is to convert an old butlers sink I have into a crevice bed for the alpines I have started to collect.  Many of them are flowering away in the cold frame and I want to find a way to enjoy their beautiful dainty flowers better.  I have done quite a bit of research so I just need my eldest to drag the sink round to the patio and to source some slate or similar and off I go.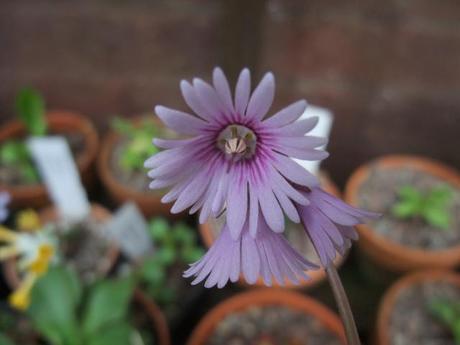 Soldanella 'Spring Symphony'