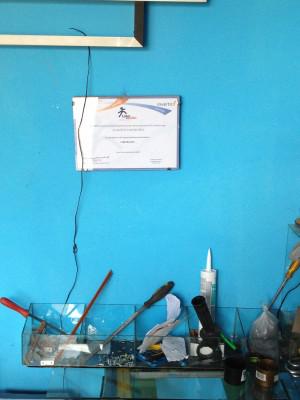 A student's graduation certificate hangs on the wall of his workshop. (Photo: CIPE Staff)
Since I first visited two years ago, Instituto Invertir's EmprendeAhora (formerly LíderAcción) entrepreneurship education program has gone from success to success, including winning CIPE's inaugural  Leading Practices contest in 2011. In three years, the program — which is targeted at university students from the poorest regions of Peru — has trained 430 students who have gone on to create at least 40 new businesses and arrange leadership and entrepreneurship workshops for more than 12,000 other students. Surveys have consistently shown positive changes in the attitudes of EmprendeAhora alumni towards democracy, as well as more optimistic perceptions about how the market economy works and their ability to participate in it.
These aggregate statistics are great, and will certainly be strengthened by the 120 students who began the program in January 2012. Yet all too often we are satisfied with reporting "big picture" numbers and neglect follow up at the individual level where real change is initiated.
Last month I was enlisted to catch up with some of the alumni to find out what they are doing now and get a better understanding of how the program has had a positive impact on the youth themselves, their families, their communities, and also find out what makes the program work.
I plotted my course for a 10 day jaunt through Peru that involved stops in the cities of Iquitos, Chiclayo, and Huancayo. The cities were selected not only because they are home to some of the more successful alumni, but also because each represents a distinct geographical region of the country.
During my trip, I interviewed more than 25 alumni, regional and municipal government authorities, university professors, program speakers, and private sector sponsors. Based on these interviews I was able to draw some basic conclusions about why the program works.
One of the most important aspects of the program is the opportunity it provides for students to meet intelligent and talented peers from all over the country. Due to the natural isolation provided by the Andes Mountains and the Amazon rainforest, Peru is one of the most culturally diverse countries in South America.  The opportunity to meet peers from other regions not only increases the students' understanding of their country, it also creates a broad network of contacts with which to share experiences. Many alumni said that the relationships built over the course of the program created the necessary motivation for them to act on their ideas once they returned to their communities. A sense of friendly competition certainly exists among program alumni.
The fact that the program is entirely free is another major factor in its success. It gives an advantage to bright, motivated students who may lack the financial resources. Given that it is incredibly rare for young people in the poorer regions of Peru to have the opportunity to participate in a training program like this for free, all the alumni I spoke with recalled having the initial reaction: "What is the catch?"
The only "catch," if it can be called that, is that participants are required to attend all sessions and complete all assignments in order to receive their certificate. While there may always be a few free-riders, the majority of program alums shared a sense of indebtedness and a desire to go above and beyond to make the most of what they had learned.
As I traveled around Peru, I noticed that there were a number of youth training programs in the regions I visited, many of them run by local governments, Chambers, and associations. These courses delve into marketing, costs, sales, etc., but are generally focused on training people in specific skills like baking, mechanics, food, and crafts. With EmprendeAhora, business plan development and aspects of running a business also form the meat of the program, but I repeatedly heard that the modules on leadership and citizenship set it apart from other types of entrepreneurship training programs.
Nearly every alum I met, whether they had their own business or not, was engaged in some sort of social project. Cases of volunteering, working with a non-governmental organization on social issues, or incorporating social projects into the line of business were very prevalent among alumni. EmprendeAhora alumni are not just contributing to the country's economic development, but are motivated to play a role in the country's social development as well.
These are just the highlights of the many lessons I learned while in Peru. In the coming weeks, the CIPE blog will feature detailed profiles of the students and businesses I met with, so keep checking back to read about some inspiring individuals.
(You can get a head start by checking out an article on 2008 alum Karolo Pérez Alvarado from Tarapoto.)