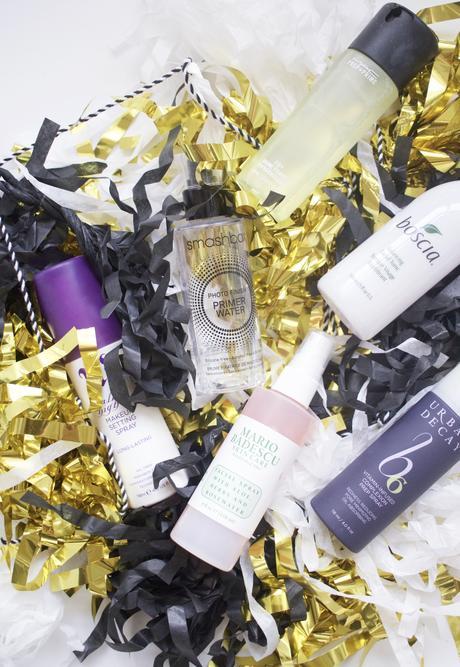 Simply put, I love spray-on products. They are cooling, refreshing, a lot of them smell good…and there are ones today for pretty much every step of your makeup routine. Avid readers of this blog know I'm all about speeding up my routine lately and spray-ons are the multi-taskers that help me achieve this. I've got a great lineup to rave to you about, covering skin prep to the final touches of your makeup routine…
As a nutritious skin prep:
Urban Decay B6 Complexion Prep Spray– This spray covers a plethora of errs including reducing redness, minimizing pores and helping to absorb excess oil. It's packed with vitamin B6 (apparently the first stabilized form of it–go science!) I spritz this all over my face in the mornings before I apply my facial moisturizer to perk up my tired skin. Recommended for a medley of uses, for instance– as a quick refresh during the day or as a beginning step before night time cleansing–this product seems to cover it all.   
Boscia Balancing Facial Tonic- I switch out using this with my Urban Decay Prep Spray listed above. I love both of them but I just love the overall smell and feel of this one a bit more. I feel like I can actually see my skin brighten or boost up from its previous, much sadder state. My skin instantly feels moisturized and relieved. It also works to rid the pores of excess sebum and is great for sensitive skin types. 
As a primer: 
Smashbox Photo Finish Primer Water-  Packed with electrolytes and a makeup locking champ, I use this regularly as a quick, no-fuss primer to spritz on for lazy days. It can serve to refresh and set the makeup after application too. 
As a long-lasting setting spray: 
Urban Decay All-Nighter Setting Spray- The love I have for this product knows no bounds. This is a holy grail, staple in my makeup kit. The mister sprays so well and creates such fine, energizing droplets. It melts powder products seamlessly into liquid foundations and gives you a beautiful, polished look. My makeup always noticeably lasts much, MUCH longer when I use this as my final step. This spray is life changing and I feel like every woman should have this is her kit!  
As a refreshing pick-me-up: 
Mario Badescu Rosewater Facial Spray- I feel instantly transported to a beautiful spa or English rose garden with just a simple spritz of this. This is a staple for me in the summer months approaching. When I feel hot, sweaty (and just gross in general), I whip this bad boy out and it always saves the day. It smells like real roses and calms dry and tight feeling skin. 
MAC Fix+- This is the favorite multi-tasking product of so many makeup artists. It can be used before, during and after makeup application. It soothes skin and melts all the makeup products together for a finished look. 
I use all of these interchangeably in my makeup routine and highly recommend them to anyone and everyone!