The only drawback to this dish is cleaning the skillet. Well, if you use a cast iron skillet like I did. And, trust me, mine is pretty well-seasoned and has decades of use. But, it's worth all the scrubbing because cast iron is the way to go.
Of course, if you prefer another skillet like stainless steel, you'll probably have some scrub action going on. Non-stick skillets will save you that work. Now, on to what's great about this recipe.
Disclosure. I adore eggs. For me, they're pretty close to the perfect food with their taste nutrition and versatility. Some may have to watch their egg intake, and if that's the case, save it for this recipe. It's worth the wait! Enjoy the sprouts n' eggs, luvs...
~peace & namaste~ ally xoxoxo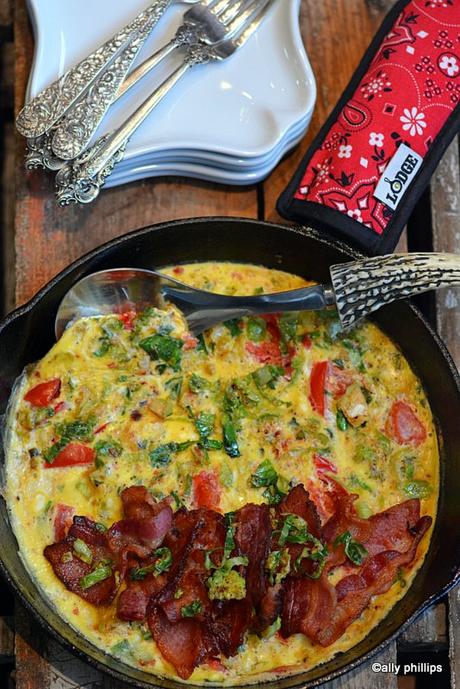 Ingredients
4 slices thick cut bacon, slices cut in half & fried, drippings reserved in skillet
4 eggs + 3 Tbl. water, mixed & blended in a small bowl
½ tsp. sea salt
½ tsp. coarse ground pepper
½ tsp. red chili flakes
1 ½ cups brussels sprouts, ends cut off & sliced/chopped
½ cup tomatoes, diced
Instructions
Using the skillet the bacon was fried in over medium heat, put the brusssels sprouts and saute 2-3 minutes. Add the tomatoes. Reduce heat to medium low.
Add the salt, pepper and chili flakes to the eggs and blend. Pour into the skillet. Cover with a lid and let the eggs steam/cook about 12-15 minutes reducing the heat to low with about 5 minutes remaining.
Place the bacon slices atop the eggs. Ready to scoop out servings!
Notes
Honestly, this is even wonderful at room temperature. And, because it's 'flat' kind of like a pizza, you can even put it between two slices of bread and have a sandwich! Don't forget the bacon!
http://allyskitchen.com/spouts-n-eggs/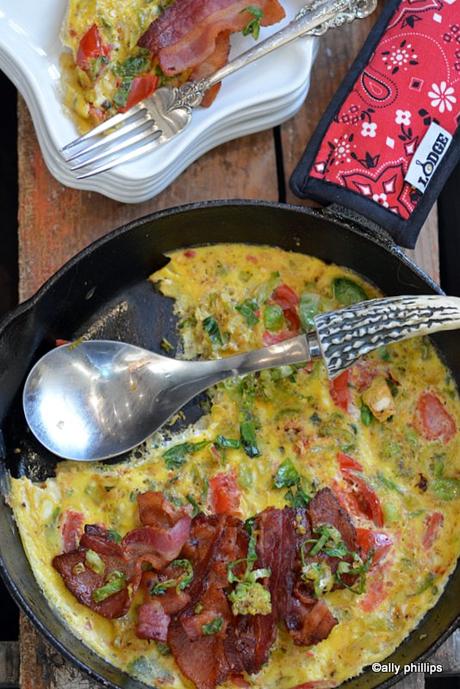 comments