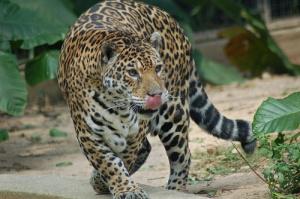 Thanks to a revised photograph identification technique, developed originally for tigers, researchers from the Wildlife Conservation Society (WSC) are able to better recognise individual jaguars in Bolivia than previously possible.
Coat patterns are as unique as our fingerprints, allowing researchers to accurately log data about individuals. The technique involves creating a digital map of an individual's coat pattern by stitching a series of photographs together which have been taken by camera traps or even tourist photographs. The use of this method has spread throughout the animal kingdom to include species such as grey seals, cheetahs, whale sharks and now, jaguars.
The technique is also proving to be useful for persecuting those involved in the illegal fur trade. Animals can now be traced back to their natural habitat through the development of 'maps' created by digital imaging. This drives the direction of investigative enquiries by establishing the location of the population in the wild.
WSC researchers using the photograph identification technique have been able to recognise 19 individual jaguars from a total of 975 photographs taken by only one camera. The number of photos taken during this study is at record high due to digital cameras being used rather than the normal traps that use film. The practice of using spot patterns to identify individual jaguars has been made possible due to the high resolution offered by digital cameras.
The ability to accurately identify individuals at such a high resolution will allow researchers to gain an intimate insight into the lives of these secretive animals and how best to protect them against the dangers of poaching.