Born: November 10, 1971  Birmingham, Alabama and raised in Lithia Springs, Georgia
Family: Goggins was married to his first wife, Leanne, for 4 years before her tragic death in 2004. In 2011, he re-married to filmmaker, Nadia Connors. They have 1 child together, a son named Augustus.
Well-Known Works: The Shield (tv series), Justified (tv series), and most recently Lincoln and Django Unchained
Lesser-Known Works: Major League: Back to the Minors, The Crow: Salvation, Randy and the Mob, and unfortunately the aborted 4th season of Veronica Mars
Coming Soon: A new season of Justified, G. I. Joe: Retaliation, Officer Down, and To Appomattox (tv mini-series)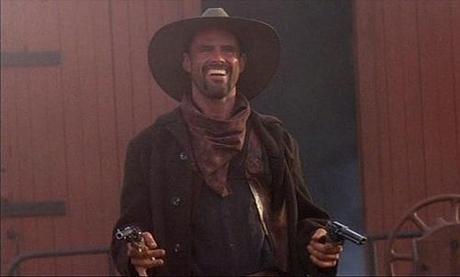 Goggins in Shanghai Noon
I first saw Walton Goggins as the hot-headed power hitter, Billy "Downtown" Anderson, in the third installment of the Major League franchise (ya know, the Charlie Sheen baseball movies). I know looking back on it, it is totally not a great movie, but at the time, I was 12 and the movie was about baseball. I was going to watch it. This was also the time that I was really starting to become a film buff. I was really good with names and faces. I remember seeing The Crow: Salvation, Shanghai Noon, and House of 1,000 Corpses and thinking, "Hey, it's Downtown Anderson." What I didn't realize was that he was having quite the career making indie films with his good friend, filmmaker Ray McKinnon. Together they made 4 films:  Chrystal, Randy and the Mob, That Evening Sun, and The Accountant (which won the Academy Award for best live-action short film in 2001).  These films were financed by his production company, Ginny Mule Pictures, which he shares with McKinnon.
In 2002, Walton Goggins took the role that would shoot him, in my mind, to one of the most underused and unappreciated actors working today. He joined the cast of one of FX's earliest drama series, The Shield. The show follows the gritty misadventures of an anti-gang task force operating in Los Angeles, based on the real life Rampart Division. The team was led by Vic Mackey, played by Michael Chiklis. Chiklis was born in my hometown and my parents and grandmother were happy to keep reminding me. It is for that reason I checked it out in the first place having little to no idea of what it was actually about. Color me surprised when I witnessed one of the cruelest, grittiest, most interesting long-arc dramas television has ever had. It remains my favorite TV show of all time (that might change on how awesome Breaking Bad will end).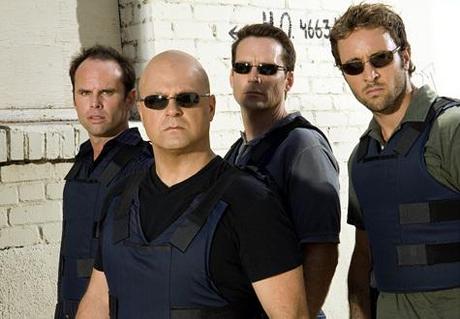 The Shield: Walton Goggins, Michael Chiklis, David Rees Snell, and Alex O'Loughlin
Goggins took on the role of Shane Vandrel, a member of Mackey's task force. He was probably the closest thing Mackey had to a number 2. Mackey, Shane, and pretty much the rest of the team had this amazing Band of Brothers chemistry. Theses guys didn't have a beat. They didn't get cases like detectives. They were in the trenches seeing things they didn't want to see, looking the other way when they didn't want to, and getting their hands dirty in such a way that made them look more like hired gun than cops. At the time, the kind of violence they depicted was snuff porn compared to what other non-pay channels were showing. What made it acceptable was creator Shawn Ryan took extra time, energy, and care at focusing on these acts of violence as traumatic experiences. The performances of these actors became that much more important. These weren't just 2-sided pulp characters, but 3-dimensional people who dared you to like them. The show ran for 7 seasons and after 4 or 5 seasons (at a time when many great shows start to let the wind out of their sails), the emotional whirlwind of Shane Vandrel became the catalyst for every major event on the show. Goggins had more responsibility then ever, and he handled like a seasoned pro. At any moment, he could be the most ruthless bastard or the most heart-breaking victim. It is easy to be one or the other, but to be both takes the kind of talent that should be headlining film. How the Emmys and the Golden Globes ignored the best performance on the show and possibly the best supporting performance in the whole media is beyond me.
The Shield ended in 2008, and in 2010, Goggins joined the Kentucky crime show, Justified. Based on a short story by Elmore Leonard, Goggins took on the role of the villainous Boyd Crowder. Crowder was the childhood best friend of series protagonist, US Marshall Raylan Givens. As young adults, the 2 worked in a coal mine. Eventually, one entered law enforcement, the other entered law breaking.  Goggins takes on a Southern good ole boy affectation that is a little higher pitched than his usual voice. He plays Crowder like a snake in the grass. He always looks like he is just minding his own business floating through his life not looking for trouble from anyone, but he is the ultimate manipulator. He runs the criminal underground and his local "over-ground" community like a politician. He is strategic, playing people's lives like  chess board looking ahead 3 moves and forcing people into corners that they can not possibly get out of thus out of sheer desperation they work in his favor. It is brilliant to watch.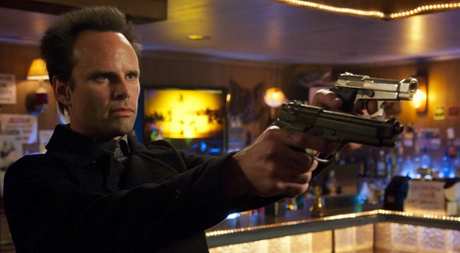 Goggins in Justified
Goggins talent is finally getting recognized. He was given a sizable role in Predators and a very small role in Cowboys and Aliens. They seemed like they were highly anticipated geek projects, but both were kind of a bust. Nevertheless, the more doors that open for Goggins the better in my opinion. Just this year, he had small but key roles in Academy Award nominated pictures, Lincoln and Django Unchained. I was especially excited for his role in Django. It was said to be the role that was originally offered to Kevin Costner and then Kurt Russell. Unfortunately, when it was folded into a role that Goggins had already taken, it seemed to have been cut down considerably. 

Walton Goggins will be seen again in Officer Down, a cop thriller starring Stephen Dorf, which should be released later this month. He will also have a role in the long gestating G.I. Joe: Retaliation. What I am really interested in though is an upcoming HBO mini-series, To Appomatox, which is being described as a Civil War story of Band of Brothers epic proportion.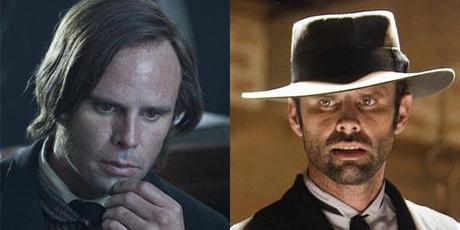 Goggins in Lincoln and Django Unchained
In his free time, Goggins is an avid traveler and photographer, which he tends to do at the same time. You can check out some of the pictures he took while traveling the world in his blog.