Our new column, Spotlight On, will feature actors, musicians, artists, writers, and anyone we feel is up-and-coming, underrated or just needs a little bit more recognition. This entry focuses on an actor that has been around for some time but who hasn't quite received the A-list name recognition I think he deserves: Oded Fehr.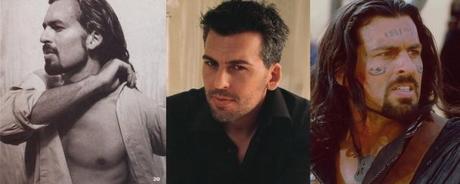 Born: November 23, 1970 in Tel Aviv, Israel
Family: Has been married to Rhonda Tolleffson since 2000 and they have 3 children
Well-Known Projects: The Mummy franchise, The Resident Evil franchise, Sleeper Cell, Deuce Bigalow: Male Gigolo, Charmed
Lesser-Known Projects:  Super Hybrid, The Betrayed, Dreamer: Inspired by a True Story , Texas Rangers, Inescapable
Comings Soon: Unknown
Oded Fehr had appearances on two television shows (Killer Net and The Knock) before landing one of his most popular roles; that of Ardeth Bay in 1999's The Mummy. A loose remake of the classic Universal film, The Mummy delivered good ole adventure fun and Oded played the part of the mysterious Medjai leader Ardeth who joins leading man Brendan Fraser in a quest to stop an all-powerful mommy. Fehr was an instant fan favorite in this role and returned in the sequel, The Mummy Returns, in 2001. He was perfectly cast as the handsome hero and won many hearts in the role.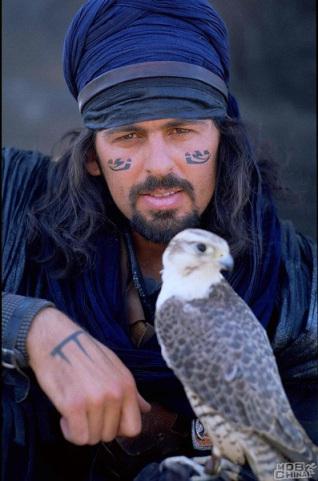 Oded Fehr as Ardeth Bay in The Mummy series.
Perhap's Oded Fehr's other most recognizable role is that of Carlos Olivera in the Resident Evil series. Carlos first shows up in the second film, Resident Evil: Apocalypse as the charming good guy that fights alongside tough-girl Alice. Carlos returns in the next film, Resident Evil: Extinction and makes a cameo in the fifth film Resident Evil: Retribution. Playing a major character in the Resident Evil films is two-sided as many consider the films to be terrible yet these films have a loyal fanbase who appreciate Fehr in the role.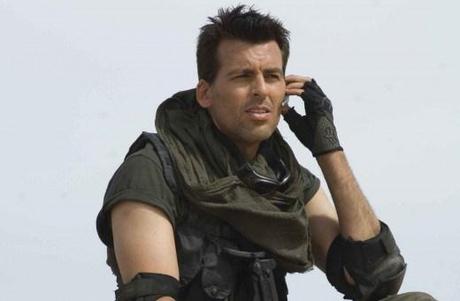 Oded as Carlos in Resident Evil: Extinction
Oded has been in plenty of other films as well. After The Mummy Oded landed the role of Antoine Laconte in Deuce Bigalow: Male Gigelow; a role which he would reprise in 2005's Deuce Bigalow: European Gigolo. Oded had small roles in Texas Rangers (2001) and Dreamer: Inspired by a True Story (2005). In 2008 Oded played Alek in the creepy thriller The Betrayed with Melissa George. He also had a role in the 2009 TV movie Limelight and played the despicable husband in 2009's Drool opposite Laura Harring. In 2010 Fehr starred in the sci-fi thriller Super Hybrid about a car come to life. He's had roles in two under-the-radar 2012 films: For the Love of Money and Inescapable.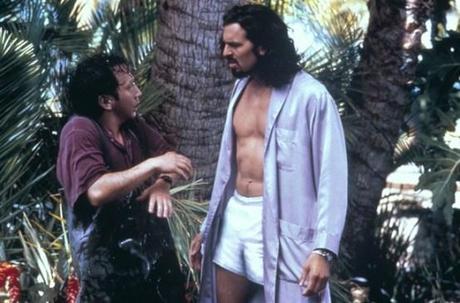 Oded Fehr in Deuce Bigelow
Oded has been all over television for many years. He starred as Frank Donovan in UC: Undercover for a year and appeared as Dr. Nicholas Kokoris in the short-lived series Presidio Med. Oded was a strong presence in the later series of the popular show Charmed as Zankou, a high-level demon. He's made appearances on the shows Burn Notice, Eleventh Hour, Three Rivers, Law & Order: LA, V, and Jane by Design. Oded has also played the role of Eval Lavine on nine episodes of Cover Affairs. From 2005-2006 Oded had a starring role as Farik the cell leader in the acclaimed series Sleeper Cell about terrorism in America.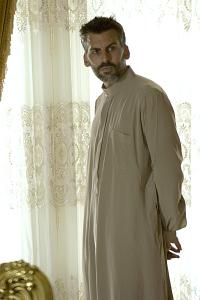 Oded Fehr in Sleeper Cell.
Oded Fehr has a lengthy resume when it comes to animated features. He has done voices for American Dad!, Scooby Doo in Where's My Mummy, and the video game Champions of Norrath: Realms of EverQuest. He was the voice of Dr. Fate on the Justice League television series for three years as well as the voice of Equinox on Batman: The Brave and the Bold. He is currently the voice of Ra's al Ghul on Young Justice and The Choten in Kaijundo: Rise of the Duel Masters. I have no doubt that Oded's voice talent will allow him to continue working on animated features for years to come.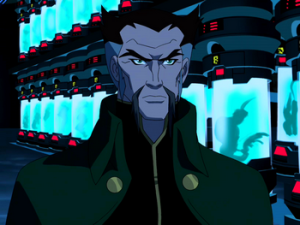 Oded voices the character of Ra's al Ghul on the television show Young Justice.
Oded Fehr has been around for a long time and isn't completely unknown by any means. He's been a staple on television and even carried shows (his performance on Sleeper Cell is fantastic).Fehr is perhaps best known for his iconic roles of Ardeth Bay in The Mummy series and Carlos Olivera in the Resident Evil series but has branched out to every genre of film as well. Oded has proved he can play the good guy (The Mummy, Resident Evil) and the bad guy (Charmed, Sleeper Cell) equally well and he deserves a break-out role that shoots him to the A-list.