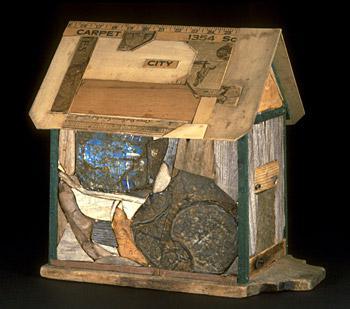 Don Baum's Chinatown
Featured in the new exhibition at American Art, Made in Chicago: The Koffler Collection, Don Baum's Chinatown is an assemblage made from wood, crushed metal cans, and rulers that have been cut, glued, and reassembled. It was created in 1980 when Baum and fellow artist Miyoko Ito were walking through Chicago's Chinatown neighborhood. He attached the pieces to a simple house form with the intention to celebrate the traces of the community. An earlier work from 1965, Parade is also in the collection of American Art, and is based on a similar construction and use of materials.
Baum may not be a household name here in D.C., but in Chicago he was something of an art hero. He came to prominence in the 1950s and 1960s, and was known as a Chicago imagist. In addition to his own art, he was a renowned educator, curator, and mentor to artists including Roger Brown and Jim Nutt, whose works are also featured in the exhibition.
Samuel and Blanche Koffler began to collect painting and sculpture in the 1950s and focused on artists in Chicago. In 1971 they started a foundation with the purpose of buying art from local artists. Their collection became part of the Smithsonian in 1979. Made in Chicago: The Koffler Collection remains on view through January 2, 2012.