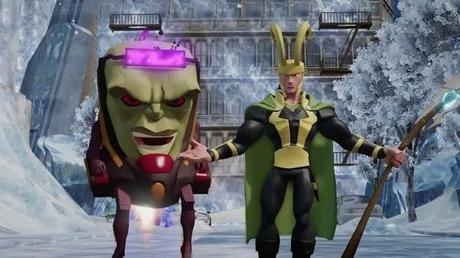 A new trailer for Disney Infinity 2.0 has appeared, and it gives us our first real taste of the Avengers Play Set, the collection of story missions and characters that will tell the first Marvel story in Disney Infinity 2.0. Andy from Family Gamer TV found the trailer online, and gives us a little more information in this video.
In this trailer we get to see the whole Avengers line-up, with every character from The Avengers film reporting for duty: Thor, Iron Man, Hawkeye, Black Widow, Captain America, and Hulk. They're in New York City to stop the evil Loki who is up to no good causing a big freeze. And it looks like he's brought the Frost Giants with him to cause lots of havoc!
We expect to hear more news of Disney Infinity 2.0 at E3, a big show in Los Angeles in June where all the next big games are shown off. But for now, if you're looking for more great Disney Infinity 2.0 videos check out our Marvel Super Heroes pages. If you loved this video, follow us on Twitter for loads more amazing stories and gameplay footage, and subscribe to Family Gamer TV on YouTube.