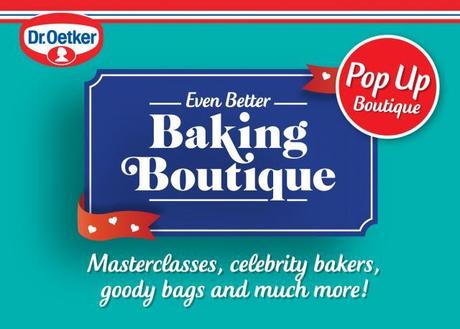 Britains biggest and best loved home baking brand - Dr Oetker, will open it's doors to the EVEN BETTER BAKING BOUTIQUE on Friday 7th November until Sunday 16th November, 2014.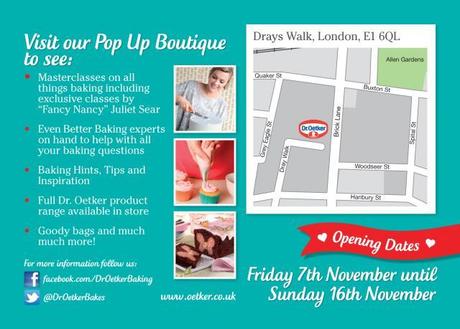 Each day the interactive baking space will play host to a range of inspiration experiences to encourage the nation to become even better bakers.   These include demos, product show cases, taste testing, master classes, and for the first time ever, consumers will also get the chance to purchase all of the amazing products on the spot.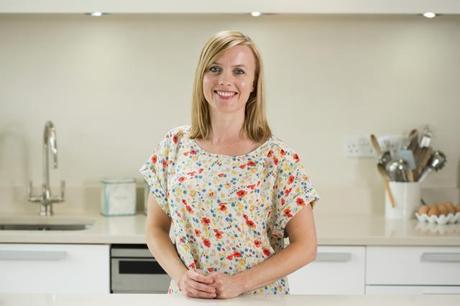 Even Better Baking Ambassador Juliet Sear will host a very special master class on Friday 7th November, sharing all of her insider hints and tips on perfecting a range of tricky techniques.  These include the art of perfect piping, simplifying sugar roses, truly irresistible toppings and Christmas themed modelling.
On Thursday 13th November, cake pop expert and baking extraordinaire April Carter will host an exclusive Cake Pop Night, designed to give consumers the confidence to turn their own favorite pop stars into quirky cakes on sticks!  Consumers will get the chance to learn from teh best and have a go themselves on the night, to the backdrop of a DJ spinning everyone's favorite 80's pop tunes.
Other master classes taking place at the Dr. Oetker Even Better Baking Boutique include Beautiful Baking Trends, Chocolate Emporium and Winter Wonder Bakes.
For more information on the full schedule of experiences and to register for a place at any of the exclusive master class's just visit HERE.
What:  Join the cake experts Dr Oetker at the Even Better Baking Boutique for a range of master classes in how to creat the ultimate cake creations.
When:  Friday November 7th to Sunday November 16th, 2014
Where:  12 Dray Walk, Brick Lane, London E1 6QL
Details:   Register for the Classes online.  See link above.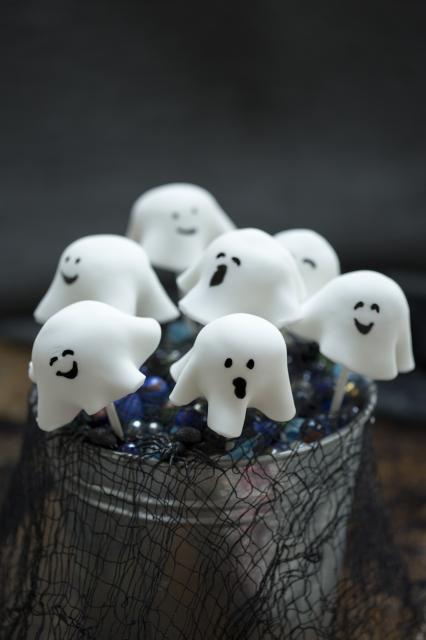 *Spooky Ghost Cake Pops*Printable Recipe  


From Dr. Oetker. 
For the cake balls:120g Dr Oetker 72% Cocoa Extra Dark Fine Cooks Chocolate (4 1/2 ounces)150g soft unsalted butter at room temperature (10 1/2 TBS)200f Light muscovado sugar (1 cup soft light brown)3 medium free range eggs, lightly beaten
2 tsp Dr Oetker Madagascan Vanilla extract125g plain flour (1 cup less 1 TBS) 
For the Cake Pops:2 X 100g bags of Dr Oetker White Chocolate chips melted for sticking the balls onto the sticks and coating the balls (a generous cup)1 tsp of vegetable oilTo decorate the Ghosts:1 X pack of Dr Oetker White Regal Ice(This is a fondant type of icing which you roll out)icing sugar for rolling outDr Oetker White desgner icing for sticking the regal ice to the cake popsDr Oetker Jet Black Gel Food colour
Preheat the oven to 140*C.275*F/gas mark 1.  Butter and line a 7 inch square cake tin.
To make the fudge brownie mix melt the extra dark chocolate in a microwave on medium power for 30 seconds at a time, stirring each time until melted, or in a heat proof bowl on a gentle heat over a bain marie.  Leave to cool.
Beat the butter and sugar together in a stand mixer with the paddle attachment or electraic hand beater for approximately 2 minutes until pale and fluffy.   You can also do this with a wooden spoon in a bowl. 
Tip:  If you are in a rush or the butter is quite cold, the addition of a couple of tablespoons of boiling water at this stage, beaten on slow until mixed will speed up this process.
Add your eggs on a slow speed, about a third at a time, mixing until combined.   Add your cooled chocolate, stirring continuously.  Add the vanilla extract and stir.  On slow speed mix in the flour u ntil just combined.  Do not overbeat.  Alternately fold in by hand.  Pour the mix into your cake tin and bake for approximately 40 minutes.  check it with a sharp knife or metal skewer.  You want this to be slightly underbaked so the knife should comeout pasty with a nice paste on the knife.
Leave to cool, then turn out into a bowl and crumble with your hands to fine fudgy crumb. 
To make the cake balls, take a handful of fudge cake mix and squeest together tightly.  You are aiming for little balls about the size of a large whole walnut, approximately 30g each.   If the mixture is dry, the addition of a little chocolate or vanilla butter cream will help the mixture stick.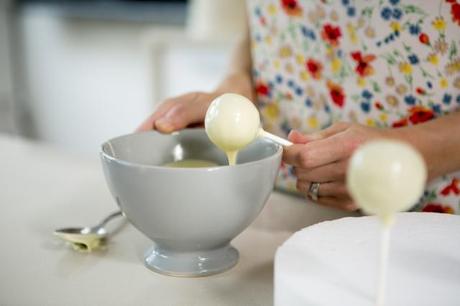 Once you have all of your balls ready, dip the end of your stick into th emelted chocoalte chips and push the stick into each ball, about half way in. Hold the ball to stop it splitting open when the stick goes in.
Once all the cake pops are ready, refrigerate them for 1 to 2 hours before dipping them, or pop them into the freezer for 20 minutes, so the balls are firm enough to hold  when dipping in the coating.
To coate the cake pops, melt Dr Oetker Fine Cooks White chocolate on lower power in a microwave bowl until just melted, stirring occasionally, or over a bain marie on a gentle heat.  Plunge each cake pop into the chocolate coating until completely covered.  Tap the cake pop gently on the side of the bowl to shake off the excess.  Once all are covered, dip each cake pop again.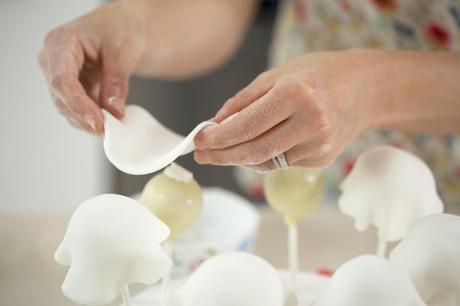 To decorate the ghosts, roll out half the white regal icing into a large rectangle, using plenty of icing sugar and a large plastic rolling pin.  Roll fairly thinly - 2mm to 3mm thick.  Squeeze a little Dr Oetker white designer icing onto the tops of the cake pops or brush with some melted white chocolate to aid in sticking of the sugar paste.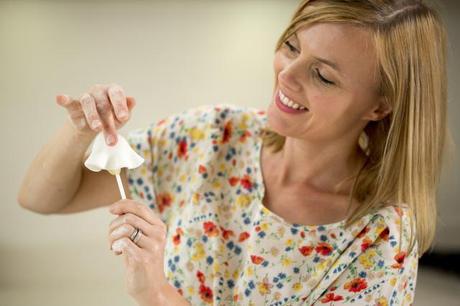 Using a cake cutter or small bowl, cut out circles of regal icing and place on each of the pops, smoothing down over with your fingers to creat the white sheet effect.   Allow a little wavy movement by using your fingers to create smooth waves.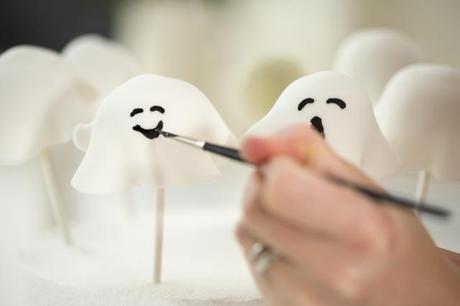 Draw on the ghost eyes and mouth using the Dr Oetker Jet Black Gel Food color.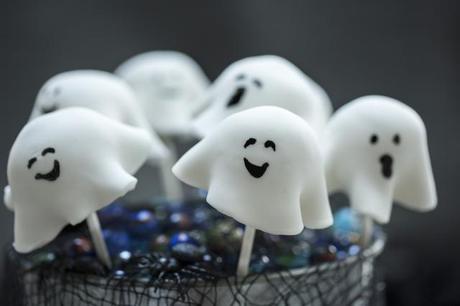 Aren't they just

A D O R A B L E

!!!
And just so that those of you with a Gluten problem don't feel left out, here is a delicious recipe for some Gluten Free Banana Muffins!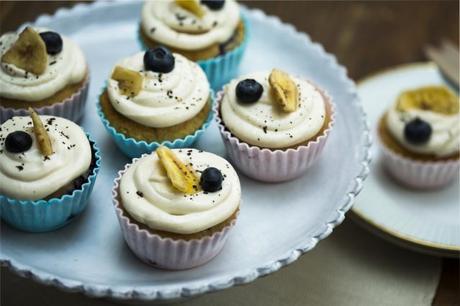 *Gluten Free Blueberry and Banana Muffins in Edible Wafer Cases*Makes 12Printable Recipe  
From the Dr Oetker people. 
For the muffins:75g coconut oil (sunflower or vegetable oil can be used) (5 1/2 TBS)1 medium over ripe banana, thorougly mashed with a fork200g fresh blueberries (2 cups)zest of one lemon220ml of butter milk (scant cup)75g of light muscovado sugar (1/2 cup soft light brown)2 medium free range eggs, beaten lightly250g Gluten free self raising flour seived with 1 sachet (1 tsp) Dr Oetker gluten free baking powder (about 1 2/3 cup)2 packs of Dr Oetker Edible Wafer Cupcake cases (can use paper liners) 
For the topping:150g Quark (1 1/4 cups, can use yoghurt or sour cream)150g of Cream Cheese (2/3 cup)5 TBS icing sugar1 tsp Dr Oetker Sicilian Lemon extractDr Oetker Madagascan Vanilla Grinder for the toppingoptional extra blueberries and dried banana slices to finish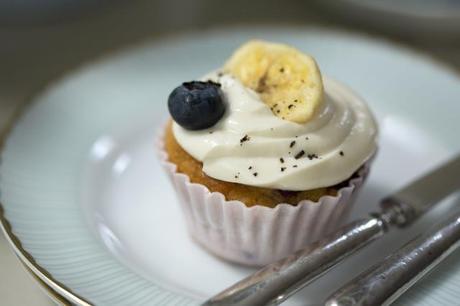 To make the muffins, preheat the oven to 180*C/350*F/ gas mark 4 and place the edible wafer cup cake cases on a baking tray.  
In a stand mixre or wit han electric hand beater, mix the sugar and coconut oil together until well mixed and in a liquid consistency.  Add the mashed banana, lemon zest, buttermilk and egg to the sugar mix and beat well to combine everythin gtogether.  
Tip in the flour and baking powder.  Mix very lightly to just combine.  Add the blueberries and gently fold in.  Divide the mixture between the cupcake cases.  Place into the oven and bake for 20 minutes. You may need an additional 5 minutes until they are springy to the touch.  Allow to cool and turn out onto cooling racks after 10 minutes.  
To top the muffins, take the quark and cream cheese straight from the fridge and gently mix together with the sugar and lemon extract.  Don't over beat.  Gently spread the desired amount of topping over each muffin.   Garnish as desired.  
Tip - For the cake batter use a plastic piping bag to pipe the mixture into your cake cases more neatly and evenly.
To join Dr Oetker on Facebook check out:  www.facebook.com/DrOetkerBaking
To visit their webpage:  http://www.oetker.co.uk
All Dr Oetker decorations are available from the Dr. Oetker online Store:  www.oetkeronline.co.uk