Halloween is the time of year when you get to express yourself in costume, more or less transforming yourself into whatever your imagination can dream up. Usually you will see a lot of costumes that represent what has been happening over the past year, but you will also find those ones that are classic. In the celebrity world, instead of having to dress down to avoid the paparazzi, famous people get to dress up in Halloween costumes and enjoy the day.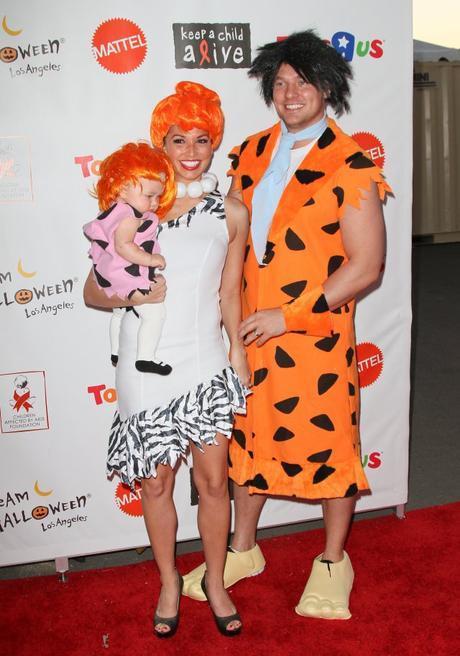 Melissa Rycroft of the television series The Bachelor and husband Tye Strickland are one couple that picked a cute family costume for their Halloween outing. They chose cartoon characters from the 1960's, The Flintstones. Tye is channeling his inner Fred, while Melissa is his wife Wilma and the baby gets into it too dressing up as Pebbles Flintstone. They get a "Yaba-Daba-Doo" for these well-made costumes.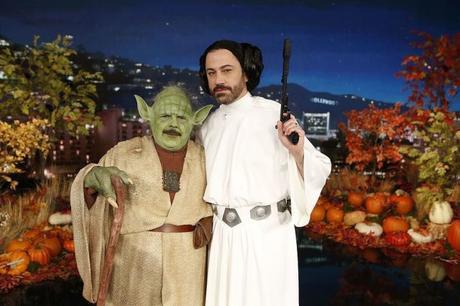 Since the new Star Wars movie will be making its debut this December, all the characters from the previous movies have made a resurgence in the costume scene. Not that they ever lost their popularity, but now there will be a new group that will be getting into the series for the first time. Late night TV host Jimmy Kimmel and his side kick Guillermo Rodriguez hit the Halloween trail in their version of Yoda and Princess Leia. Guillermo's look is spot-on with the green pointy ears, white robe, and walking stick. Jimmy doesn't look quite as shapely as Carrie Fisher did as Princess Leia, but he does wear the hair buns well. However, the facial hair on both men is a dead give-away.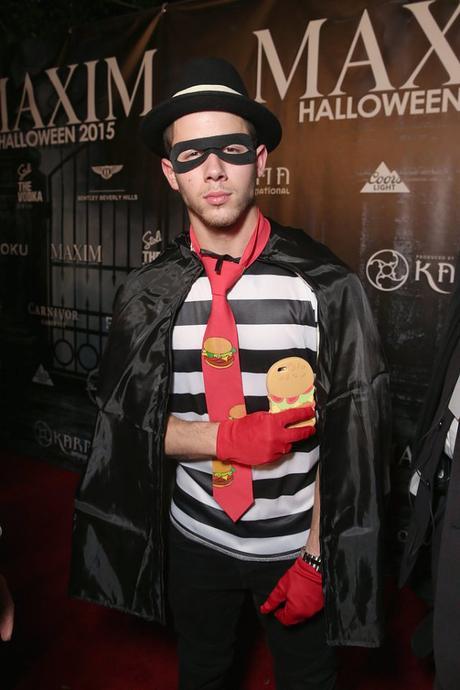 Singer Nick Jonas, who is always on trend when it comes to fashion, picked a character from the familiar franchise McDonalds that was popular in the TV commercials in the 1970's. The Hamburgular was always looking to hoard the hamburgers for himself. Nick Jonas is taking his role seriously with his portrayal and has the costume down pat with the brimmed black hat, mask, cape, and tie that gives us the hint of who he is. Since he was born in the 90's, he wasn't around to see the original Hamburgular himself