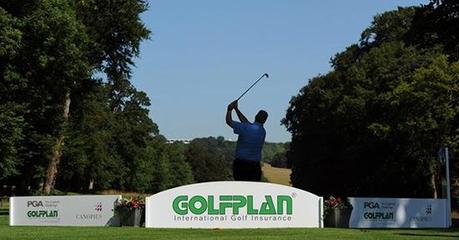 Ian Walley successfully defended his Golfplan Insurance PGA Pro-Captain Challenge title as relentless weather conditions curtailed any chance of a definitive play-off. The Kedleston Park Pro and partner Ian Neal were announced joint winners with Windermere pair Simon Edwards and Ian Gordon, having shared leadership overnight.
With a first round played amidst magnificent sunshine, both clubs carded a seven-under-par 64 in the £25,000 event. But having only reached the fourth fairway, the match at Antalya Golf Club's PGA Sultan Course was abandoned amid torrential rain, as well as thunder and lightening.
During the opening round, Ian Gordon dunked his initial tee shot in the water aside the first fairway, getting his Windermere team off to a difficult opening: "We got off to a terrible start when I put my first ball in the water and I thought 'oh dear'. It was all down to nerves but then we just settled very nicely."
Windermere club captain Gordon then settled into an impressive run of form that saw him sink three net-birdies from twelve, and was left slightly disappointed to not finish the job he had started in such style.
"It's very frustrating we didn't get the chance to play and finish the second round but it was a fantastically organised event," he said, adding, "The sponsors, Golfplan and Canopius, together with the PGA did a brilliant job in extremely difficult conditions."
This year marked the first in an initial three-year deal in which Golfplan, the international golf insurance specialists, sponsored the International Pro Captain Challenge. Traditionally one of the most popular club events on the calendar, the finale in Turkey followed the completion of 10 UK Regional Finals.
Despite his captain's mild disappointment at not being able to secure an outright victory, Windermere golfer Simon Edwards stated, "A win's a win, it doesn't matter how you get it." Before adding "It was unfortunate with the weather but all the players and captains had a great week which is what it is all about and everybody enjoyed themselves."
The result ensures that Kedleston pro Ian Walley successfully defended the title he won last year, giving him his third PGA trophy in the space of 12 months. Having never qualified for an event before only three years ago, a clearly delighted Walley said: "I'm over the moon, it would have been nice to win outright but it's been a great year or two for me and to hold both this and the Lombard Trophy is brilliant. It is just a shame that the weather intervened."
His captain, Ian Neal was in similar spirits, stating: "It is a disappointing end but you can't control the weather. It's been a wonderful tournament, superb organisation, hospitality and a good bunch of blokes. The tournament has been great for the club, we have had literally hundreds of well-wishers, and it has generated a lot of interest. Hopefully that will also be reflected in the club and people knowing what Golfplan are about."
Golfplan Insurance Director Roger Harvey expressed his excitement for the tournament's success, as well as its future, saying: "The whole event has been a terrific success stretching back to the first regional final qualifier and we're looking forward to building on this next year."
As no definitive winner was determined, the £25,000 prize fund was split, leaving both Walley and Edwards with a £4,350 share each. Craig Phillips and Tim Parker of the Nuneaton Golf Club received £2,900 for their third place finish.