Country ham and gravy for soppin' your bread!  Nothing's better than a bowl of thick rich split pea soup that's decadently prepared with country ham, bacon drippings, chardonnay and sour cream!
This split pea soup is perfect for the upcoming days of Fall.  It's a meal in a bowl!  Team it with an open faced melted gouda cheese on sour dough bread or a traditional grilled cheese smashed thin and grilled crispy…you will have your kids, family, guests, whomever you're serving, coming back for seconds and maybe even thirds!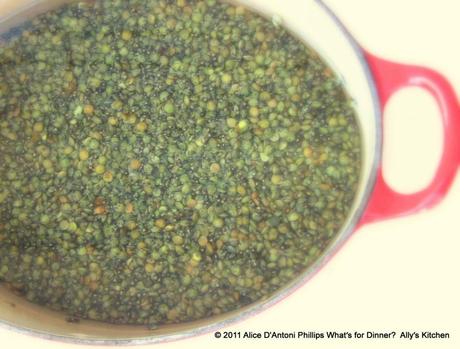 Serves:  6
What you need:
2 cups dry split peas
Water (to cover peas in pot)
2 cups chicken broth
6 slices bacon fried using only the drippings
1 cup diced  1/8" thick ham
Kosher Salt/Fresh Ground Pepper to taste1 tsp red chili pepper flakes
¾ cup chardonnay (can substitute apple juice)
4 tbl sour cream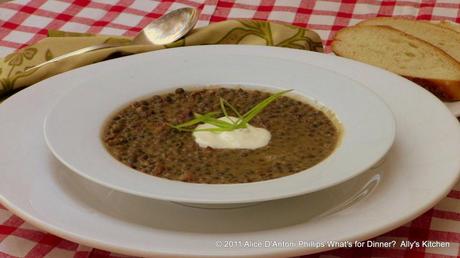 What you do:
© 2011 Alice D'Antoni Phillips What's for Dinner?  Ally's Kitchen In a heavy pot, place dry peas and cover with water (a     bout 2" depth over peas).  Turn on high, bring to boil, reduce heat to medium high, cover w/lid and boil for 30 minutes.   (Watch and add water if needed.)  Reduce heat to medium, add chicken broth and cook covered another 30+ minutes .  Meanwhile, fry bacon in skillet, remove bacon slices, and add diced ham to bacon drippings and fry golden brown.  Turn off heat.  Add the drippings/ham to split pea mixture.  Stir in red chili flakes, salt & pepper.
In pan where bacon was fried, deglaze.  Turn heat to medium high heating the pan.  Slowly add chardonnay stirring and scraping away whatever is left in the pan.  Allow to boil at simmer about 10 minutes.  Whisk in sour cream.  Add this to split pea mixture.
Cover and let simmer about 20-30 minutes.  Split pea soup should thicken nicely.  If too thick for your preference, add more chicken broth.
Serve with a dollop of sour cream and chiffonade cut green onions/tops.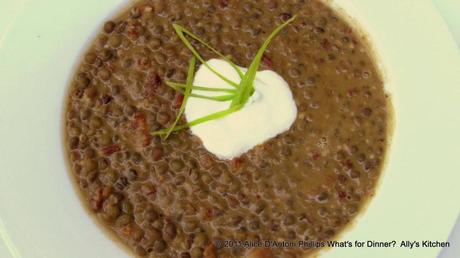 Comments
comments