Izebella loves the water and we are lucky enough to have two pools not far from where we live. Ryan and Jordanna both have weekly swim lessons but Izebella is too young for lessons just yet. So when I get a bit of spare time we go to the pool for half hour or so.
I have been having a few problems trying to find the best flotation/ buoyancy aid for her age. She doesn't like being in the floaty seats as she enjoys free movement. I find it almost impossible to put armbands on her without thinking I'm going to damage her arms, they just won't go on! . The swim rings are ok but I feel she will fall through them and the blow up jackets are too big for her.
Well we were both quite excited when Splash About offered to send over one of their Float Suits.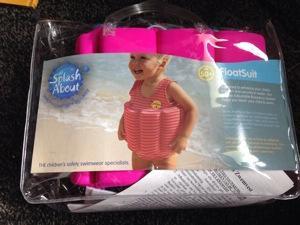 The Floatsuits come in a choice of different colours and designs. Izebella has the Tutti Frutti design which is very girly being pink with a floral pattern. They start from size 1-2 years and are a swimming costume with floats attached around the middle.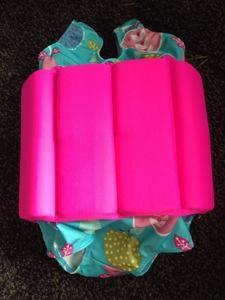 The floats go all the way around the costume. There are 16 small floats in total and each one can be removed as required by simply pulling them out.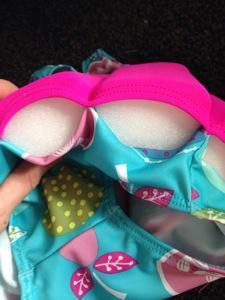 This txt is taken from the Splash About website. This explains how these suits work and what they are intended to do.
"Our FloatSuit will help you teach your child to swim. Unlike armbands, it gives your child full use of their arms, while holding them in the correct position for swimming. Feeling fully supported, they will gain confidence in the water. The floats can also be gradually reduced until the wearer becomes independent. The Adjustable Buoyancy System "ABS" can be adjusted to suit anybody, with two floats per pocket so that buoyancy can be individually tailored to the wearer's requirements. As with all of our Water Buddies products, the FloatSuit comes with excellent instructions and advice on helping children gain confidence in water and learn to swim".
So with Izebellas new suit in hand, a towel and a swim nappy, off we went to the pool.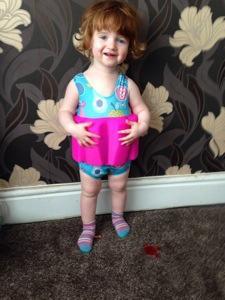 Izebella's float suit is size 1-2 years. I was slightly worried it may not fit too well with her being 21 months, but it seemed to be a perfect fit. I found it really easy to get on and off, even over a swim nappy.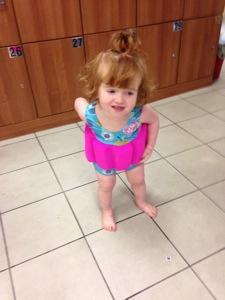 The fit was comfortable and Izebella looks so cute and content. I had a lot of older ladies cooing and saying "Aww":
The suit does take a lite getting used to, both for Izebella wearing it and myself holding her. I did find that she tipped over a few times but it didn't seem to bother her.
I found the best way to keep her on her front whilst she has the suit on is to hold her hands out or give her a float to hold on to. Those long snake like floats seemed to do the trick. She also enjoyed floating around on her back even tho she tipped a few times.
The pool we used is small but starts at 1M which is quite a depth for someone so small. The suit did keep her head out of the water but takes a little practice to stop her turning in the water. She was however very happy wearing it and did not want it off.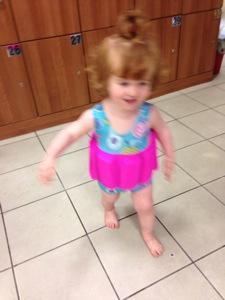 I did try to take a few floats out to see if it would help a little with her balance but it made her worse so I quickly put them back in.
It leaves both her arms and legs free to kick about in the water. After 10/15 minutes of being in the pool she was managing to stay more upright.
I do think it's a great suit and certainly saves the hassle of packing both a costume and numerous floats and armbands.
The Floatsuits can all be purchased from Splash About and cost between £20-£28 depending on style.