Spiral – Flat Sequel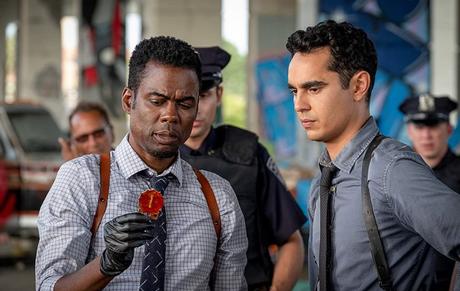 Director: Darren Lynn Bousman
Writer: Josh Stolberg, Pete Goldfinger (Screenplay)
Starring: Chris Rock, Samuel L Jackson, Max Minghella, Marisol Nichols, Dan Petronijevic
Plot: A criminal mastermind unleashes a twisted form of justice in Spiral, the terrifying new chapter from the book of Saw.
Runtime: 1 Hour 33 Minutes
There may be spoilers in the rest of the review
Story: Spiral starts when a cop is put through a torturous game by a twisted killer, leading to Detective Zeke Banks (Rock) an outsider cop demanding to take the case, with the news that it is a Jigsaw copycat.
Zeke is forced to take a rookie William Schenk (Minghella) under his wing, as he looks to solve the case, as more cops going missing, with a connection to Zeke's own past, the past which has made his distant from the rest of the force.
Thoughts on Spiral
Characters & Performances – Detective Zeke Banks prefers to work alone, this will lead to him getting into trouble more often than not, with the force not looking at him favourably because of his past. He demands to be lead on one of the few cops he trusted murder, where he will come up against a serial killer targeting the force. Zeke will have to look into his past to learn the truth about who is really behind this new series of killings. Chris Rock does well in the leading role, even if the role feels more like a typical detective saving people. Detective William Schenk is the rookie that is assigned to work with Zeke, he has always believed in the cleaner police force and wants to learn from one of the best. Max Minghella is solid enough in this role, which is going to be the feeling for most of the performances, everyone is solid without needing to do much more. Samuel L Jackson does feel wasted in this role, because we know in a supporting role, he can steal the show, but this could have been anyone in this role, he does nothing to make himself standout.
Story – The story here follows an unpopular detective that must start investigating a string of police murders that will have a connection to a spiral, leading them to believe in a Jigsaw copycat on the loose, he will need to look into his past to learn who the killer is before it is too late. When it comes to the Saw franchise, we ended up going down a journey of apprentices becoming the focal point of who was behind what was happening, this time we look to do the spin off idea, where someone has been using the motivation of John Krammer to play their own game. This does seem to start of with a smart idea for the lead character in Zeke and what he has done or going through, trying to highlight errors within the police force, but the who done it side of the film because flat and boring, without it ever needing to be part of the Saw world, this could easily have been a normal dark crime thriller with the same themes, that got called like Saw, instead of trying to understand the same message Saw once gave.
Themes – Spiral is a horror thriller that looks to capture the magic we once had from the Saw franchise, only to lead us down a path a dark set of murders that are in traps that don't look like they are escapable, with way too many variables against the time. The settings are just as confusing, with certain sequences happening in locations where somebody could easily have seen or heard the events, unlike the emptiness created in the original franchise.
Final Thoughts – Spiral ends up being a flat addition to the world that offers nothing new, trying to use the big name draws a Chris Rock and Samuel L Jackson to breath new life into the series.